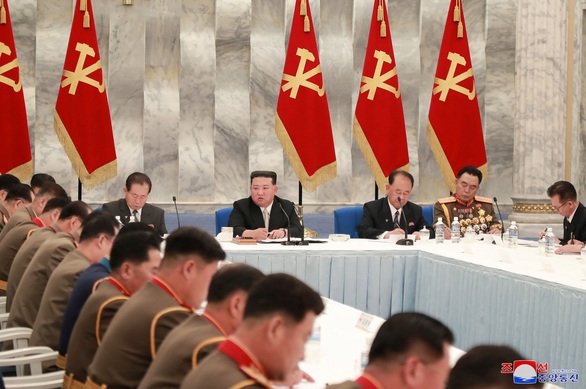 Kim Jong Un at a meeting with North Korean military officials – Photo: Reuters
"Mr Kim stressed that the entire army needs to reinforce its strong defensive capability by all means to overwhelm any hostile forces," the Korean Central News Agency (KCNA) reported on June 24. .
KCNA did not directly mention the missile or nuclear program. The United States and South Korea believe that Pyongyang could conduct a nuclear test at any time.
At the meeting, North Korea made a rare mention of revising its war plan and vowed to bolster front-line units with "an important military action plan".
Regarding the adoption of "important military measures to strengthen the operational capabilities of front-line units", Kim "understood the importance of this work and outlined all the principles and tasks and how to do it," KCNA reported.
In April 2022, Kim also called on the military to strengthen its strength to deal with the enemy. Since the beginning of the year, North Korea has fired several ballistic missiles, including an intercontinental ballistic missile, a new hypersonic missile and a short-range missile capable of carrying a nuclear warhead.
At the meeting, two senior military officials, Pak Jong Chon and Ri Pyong Chol, sat next to Mr. Kim, indicating that they had been appointed vice chairman of the Central Military Commission of the Workers' Party of Korea.
South Korea's military said it was analyzing North Korea's implications when it came to adjusting the action plans of front-line units.