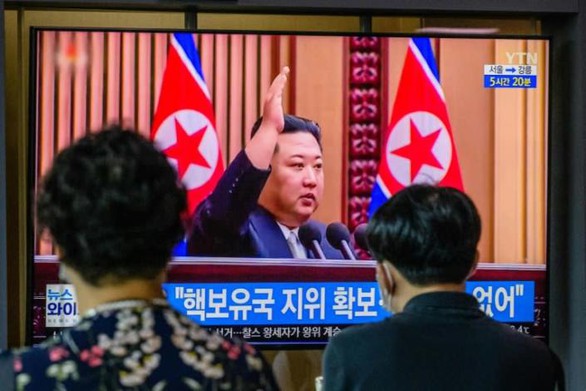 Image of North Korean leader Kim Jong Un on a television screen – Photo: AFP
On the morning of October 1, the South Korean military said it had detected North Korea launching two short-range ballistic missiles towards the east coast. This is Pyongyang's fourth launch in just a week.
This missile launch action took place on the occasion of US Vice President Kamala Harris's visits to Japan and South Korea, and after the navies of the US, Japan and Korea had the first trilateral anti-submarine warfare exercise. in the past 5 years.
South Korea is known to have condemned the North's actions, while the US side said it was "aware" of the missile launch, but assessed the move did not immediately pose a threat.
"The missile launch highlights the destabilizing impact of North Korea's illegal weapons of mass destruction and ballistic missile programs," the US's Operations Command said in a statement. America's commitment to the defense of South Korea and Japan remains unwavering."
Analysts say North Korea is accelerating the pace of testing and "normalizing" this while the world's attention is focused on other crises, such as Ukraine.
"Despite its internal weaknesses and international isolation, North Korea is rapidly modernizing its weapons, and taking advantage of the world's division in the US-China relationship and Russia's annexation of territories." Ukrainian territory.
In addition, Kim Jong Un (North Korean leader) also makes it difficult for the South Korean President Yoon Suk Yeol's government amid the infighting in South Korean politics," Professor Leif-Eric was quoted as saying by Reuters. Easley (Ewha University in Seoul, Korea).
The issue of North Korea has become less noticeable in the past few years, since the outbreak of the COVID-19 pandemic and the escalation of tensions between Russia – Ukraine, the US – China.
But US and South Korean officials have warned for several months now that North Korean leader Kim Jong Un is preparing for another nuclear test.
Specifically, according to AFP, South Korean intelligence this week suggested that North Korea may conduct a nuclear test sometime between China's party congress on October 16 and the US midterm elections on October 7. -11.
North Korea has tested nuclear weapons six times since 2006, and the last time it did so was in 2017.