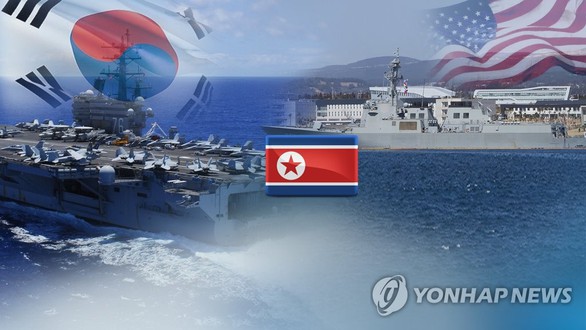 North Korea calls South Korea-US joint military drills at the end of August "an act to spark war" – Photo: YONHAP
According to Yonhap News Agency, an article titled "Dangerous actions are sparking a war" was published in the North Korean foreign propaganda weekly Tongil Sinbo on July 31, which mentioned UFS exercises between the South Korean and US militaries will take place at the end of August.
Specifically, the above article criticized the upcoming South Korea-US military exercises and called this action "striking a real nuclear war".
Speaking at the 69th anniversary of the end of the Korean War on July 28, leader Kim Jong Un said North Korea is ready to respond to any military confrontation with both the US and South Korea.
Kim also warned that the South Korean government and military will bear the consequences if they make any "dangerous efforts".
South Korea's Defense Ministry said on July 21 that Seoul and Washington are considering a plan to rename the joint command post exercises (CCPT), scheduled to take place from August 22 to September 1.
It is known that the two sides are considering a new name "Ulchi Freedom Shield" (UFS), roughly translated as "Ulchi Freedom Shield" instead of "Ulchi Freedom Guardian" (UFG).
The format of the exercise will be similar to the last UFG exercise in August 2017 with contents such as computer-based simulation training, field exercises and people's response drills. surprise.
Recently, the US and South Korea have continuously held joint military exercises between the two countries' militaries to ensure security in the Korean peninsula.
In addition, North Korea has in recent months tested hypersonic missiles and missiles that it believes can carry tactical nuclear weapons.
North Korea has always opposed joint military exercises between the United States and South Korea, saying it is a move aimed at Pyongyang.
The Ulchi Freedom Guardian (UFG) exercise, dating back to 1960, is described as a war simulation exercise aimed at comprehensively testing crisis management capabilities as well as readiness. response in the event of a real war.
UFG was canceled in 2018 under the administration of President Moon Jae In because Seoul then prioritized a diplomatic solution with North Korea.