A fear that most office workers experience is the "phobia" called Monday. Meetings, reports, plans, … a mountain of work is always waiting to be solved every day. At the beginning of the week, office workers feel stressed and lose energy. Therefore, they just want a quick week to rest, relax and take time for themselves on Saturdays and Sundays.
On the weekend, many people choose to sleep to regain their health after a series of days of staying up late and getting up early. Besides, fun and entertainment activities are also loved by office workers. More specifically, many people choose to go to art exhibitions to find calm, quiet, and "heal" themselves after deadlines.
Wait until the weekend, turn on "silent" mode with work
As a programmer, Cong Ngan is looking forward to the weekend to rest and put aside all work. "One week of going to work has been quite tiring, so for me, the weekend is very necessary. Because there are times when the workload is too much, I have to work overtime on Saturdays and Sundays to finish. So when I have a break, I will take advantage of doing the things I love like going to coffee, meeting friends,…"Cong Ngan shared.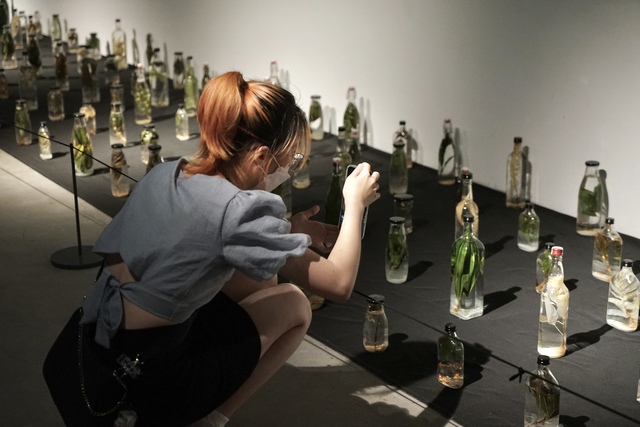 Cong Ngan will often turn on "silent" mode with work on the weekend, taking time for himself
For Cong Ngan, working time and holidays need to be clearly defined. If once was on a day off, ie absolutely no work. She usually wasn't in the habit of handling work on the weekend, unless it was an urgent matter. However, Cong Ngan also thinks that in order to have a relaxing weekend, it is best to complete the work of the week, so that you will not be disturbed but can "silent" before the messages.
Sharing this mood, Tran Minh Hang, who is currently an event organizer, said that the weekend is an opportunity to "take off steam", to get rid of all the hustle and bustle of work. Usually on these days, Minh Hang will create a to-do list for herself.
"Perhaps like many people, I usually prepare plans for going out, walking around and entertainment in general. I can do anything, but I don't spend my days off work. At the end of the week, I have a habit of turning off notifications in workgroups so I can relax completely without being distracted.
However, sometimes it is still inevitable to get business messages for these days. Every time I do that, I will often check to see if it is an urgent matter that needs to be solved or not. If not, I just receive the information and promise to do it at the beginning of the week. In general, I will limit my work as much as possible on my days off. That's also how I create balance in life, more excited to work at the beginning of the week."Minh Hang said.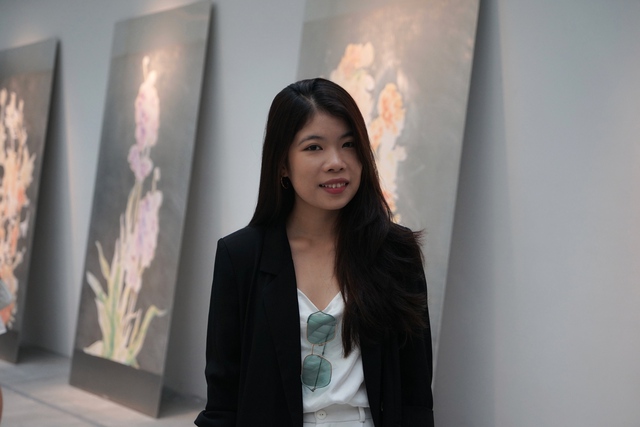 Tran Minh Hang often puts aside all work and goes to a painting exhibition on the weekend to relax
Instead of making up for sleep, office workers look to the art exhibition to "heal"
Unlike students, who spend the weekend to "sleep in", office workers have more interesting options for their holidays. Even waking up on time to go to work every day to feel like enjoying the weekend as much as possible.
Minh Hang shared: "I also make up for it, but I usually go to bed earlier on Friday night, for example. And on the weekends, it's partly because I'm used to sleeping and getting used to the work cycle, the rest is because I don't want to waste my days off just to sleep, so I still get up on time to go to work. In addition, I think, maybe because I have passed the first 2 years of age, I feel no longer interested in sleeping "toast" but instead want to spend more time with my family and myself..
Besides going to cafes and walking the streets, Minh Hang often finds art exhibitions to enjoy. For Minh Hang, going to the exhibition is the best way for the soul to settle down, not to be disturbed by the chaos outside: "The first thing when I go to the exhibition, I will put my phone on silent mode. I like going to exhibitions because when I focus on my works, I feel like I can let go of everything called work.".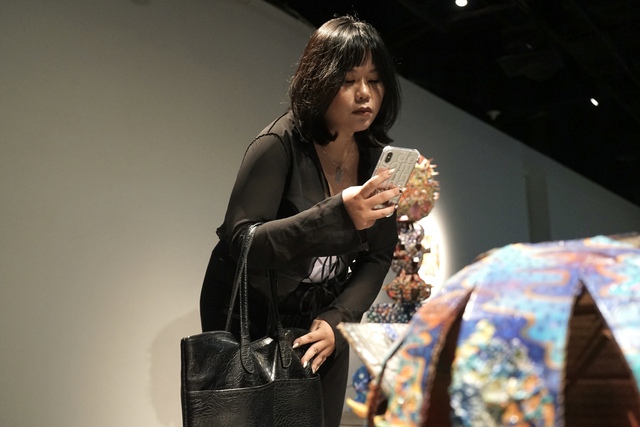 Going to exhibitions is a way to "heal" Hang Nga after busy days with work deadlines
Working in the field of communication, Hang Nga said that her work cannot completely separate between working and resting time. However, sometimes on holidays, she still tries to spend a few hours going to the art exhibition to temporarily "escape" from the deadline.
Hang Nga says: "No matter how busy I am, when I enter the exhibition, I completely put work aside. I feel like a different world, more peaceful and quiet. I'm not too knowledgeable about paintings, but I like going to exhibitions because I like the feeling of my soul being deposited. At that time, my mind was completely relaxed, there was no room for work, deadlines or the chaos of life, but just let my soul into the works, listening to myself more.
Moreover, even though the exhibition is crowded, it is not crowded. Everyone chooses a private corner to feel the painting, respecting each other's private space and without any judgment or noise. I often joke, the boundary between the gallery and the outside is like two opposing worlds. If you've never been to an art exhibition, I think everyone should try it. Especially those who have a busy and tired working week, coming here will surely feel "healed" very much..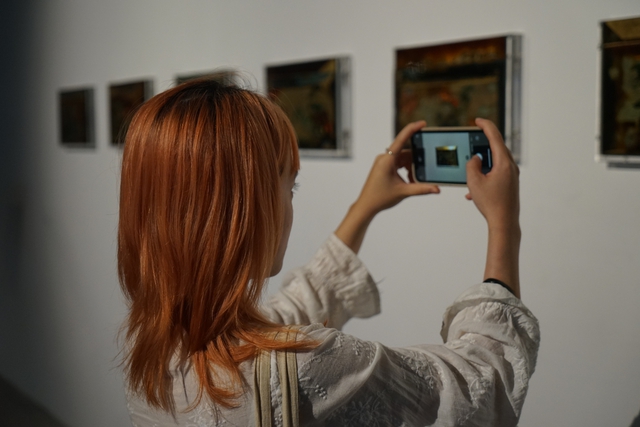 Hoang Lan likes to enjoy and admire the work of artists
As for Hoang Lan, her friend who is working as a project assistant said: "Every weekend, I look for exhibitions or fairs to visit. I personally see this activity as a way to "heal" myself after a long and stressful working week. Moreover, I like going to the exhibition because I want to admire and enjoy the work of the artists. They may not be office workers, but they are just like me, working hard and wanting to be recognized.".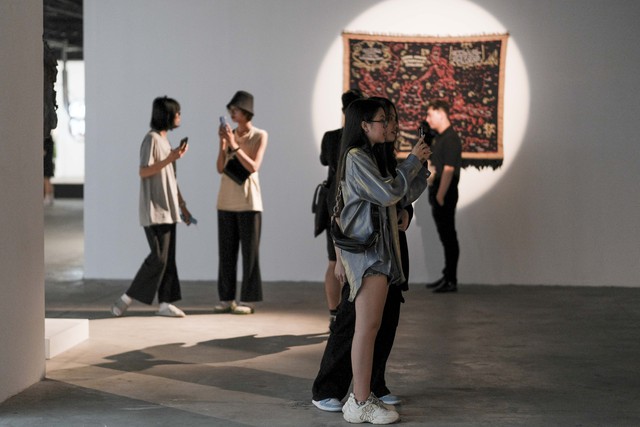 Weekend exhibitions often attract many young people from students to office workers
Each person chooses to enjoy and capture the moment in their own way