Apple has just officially launched 4 products in the iPhone 14 series including 14, 14 Plus, 14 Pro and 14 Pro Max. The company also announced the product pre-order schedule from September 9 and officially opened for sale on September 16. However, not all markets will receive the latest iPhones on September 16.
Thailand becomes Apple's tier 1 market
According to Apple's practice, only markets that are considered "tier 1" (tier 1) of Apple will be opened for sale at the earliest. Tier 1 markets can be mentioned as the US, Canada, some European countries, Australia, China, Japan, Hong Kong… And this year, Thailand is the next market to reach this top tier 1.
According to information from Apple's official website in Thailand, Apple announced that it will accept orders for iPhone 14 series here from September 9 and officially open for sale from September 16. Thus, Thailand becomes the second market in Southeast Asia to receive the iPhone 14 at the earliest in the world, next to Singapore.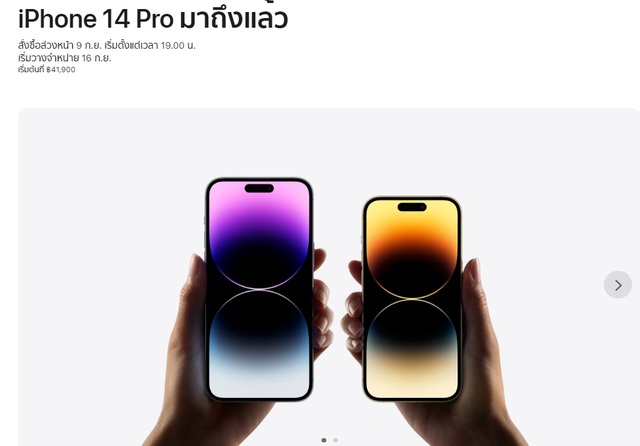 Apple announced to sell iPhone 14 series in Thailand from September 16.
In terms of price, iPhone 14 series is offered for sale in Thailand for 32,900 baht (VND 21.2 million) respectively for the standard 14 version with the lowest capacity, from 37,900 baht (VND 24.5 million) for iPhone 14 Plus, respectively. , from 41,900 baht (27 million dong) for iPhone 14 Pro and from 44,900 baht (29 million dong) for iPhone 14 Pro Max. Compared to the expected price in the Vietnamese market, the price of iPhone 14 series in this market is about 4 million VND / model.
The fact that Thailand becomes Apple's tier 1 market is not surprising because this country has become an important market for Apple in the past few years. It also opened two Apple Stores in Thailand, one in 2018 and one in 2020.
Previously, in Southeast Asia, Singapore was classified in the tier 1 market group, Thailand in tier 2 while Vietnam was in the tier 3-4 group. According to domestic sources, with a strong growth rate in the last 2 years, the Vietnamese market will also be upgraded this year and will soon be a tier 2 market.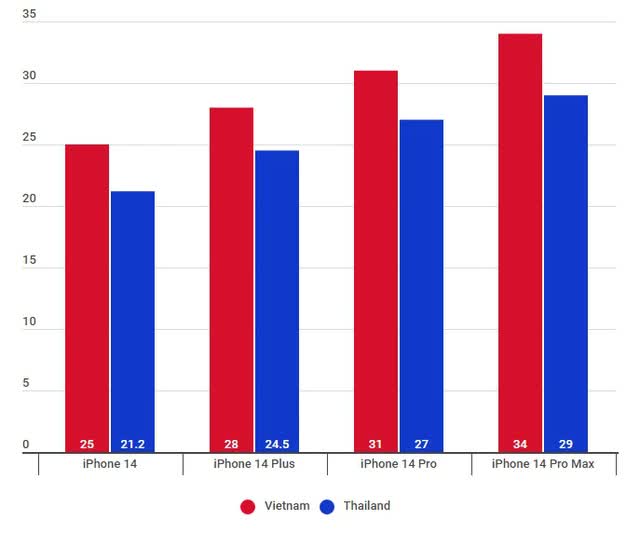 The selling price of iPhone 14 series in Thailand compared to the expected price in Vietnam.
Therefore, Vietnamese users can pick up iPhone 14 1-2 weeks earlier than usual, expected in mid-October. However, Vietnam still does not have any Apple Store. Many sources said that Apple has also studied the possibility of opening an Apple Store in Vietnam, but no official information has been given.
Being classified as Apple's low-end market makes users and retailers in Vietnam suffer many disadvantages in terms of goods supply, selling prices as well as the application of promotional programs. This will improve as the market gets upgraded.
Vietnamese fans are eager to "go to Thailand to upgrade iPhone"
As soon as the information that Thailand opened for sale of iPhones from September 16 was revealed, many Vietnamese fans immediately planned a short trip to Thailand, combining fun and queuing to buy a new iPhone. earliest.
Phan Tuan Anh – an Apple fan in Hanoi said that he is "teaming up" to go to Thailand with his friends to become one of the first to own a new iPhone. "I also thought about buying a ticket to Singapore, but when I heard that Thailand was also opening iPhone sales soon, I decided to 'turn the car'."
According to Tuan Anh, the plane ticket from Hanoi to Thailand or Singapore on September 15 (one day before the new iPhone opens for sale) is almost equivalent. However, the cost of living in Thailand is definitely lower, and if you want to combine tourism, you and your friends can also choose many other destinations. Therefore, he believes that more people will choose Thailand to "hunt" new iPhones than Singapore.
On the iPhone groups, there were also many people preparing to "set up a team" to go to Thailand to wait to buy a new iPhone.
With an additional place to buy iPhone 14 near Vietnam, it is likely that the source of "portable" iPhone goods to the country will be more abundant, making the market more exciting. However, the selling price of the new iPhone in the early days is often quite high, so most users tend to wait for the product price to cool down, or choose to order the genuine device and wait for the official opening date.