Some localities have had to declare a state of emergency to deal with this disease. In the city of San Francisco, California – the epicenter of the current US outbreak of monkeypox, overcrowding at vaccination points has begun to appear.
In recent days, it is easy to see long lines of people lining the streets of San Francisco waiting for their turn to be vaccinated. The city is organizing monkeypox vaccinations for people at high risk of contracting the disease, including health workers and men who have sex with men.
Mr. Parind Shah – City of San Francisco, California, USA said: "I have been queuing here since 7:30 am, I have been waiting for 3.5 hours, it must be my turn."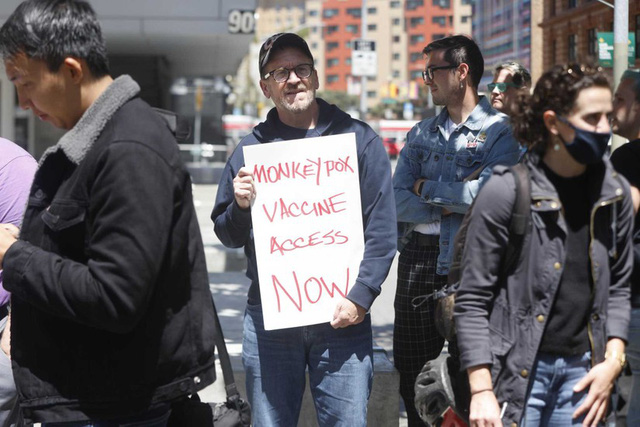 A man holds a sign calling for increased access to the monkeypox vaccine at a rally in San Francisco, US (Image: AP)
On July 28, the city of San Francisco declared a state of emergency due to the increasing number of monkeypox cases. The city currently records about 300 of the more than 800 cases of monkeypox in the state of California. The mayor of San Francisco said the declaration of the state of emergency was intended to raise alarm bells and highlight the serious shortage of vaccines.
Dr. Lukejohn Day – Zuckerberg San Francisco General Hospital, USA said: "Based on current CDC guidance, about 35,000 to 40,000 people in San Francisco should be vaccinated against monkeypox at this time. However, the number of vaccines we receive only meets a small part of that. Every time we run out of a batch of vaccines, we will have to close the vaccination site until the next allocation."
The vaccine currently used to prevent monkeypox in the United States is the Bavarian Nordic Jynneos vaccine. In addition to implementing vaccinations, the City of San Francisco is also working to increase testing capacity, expand treatment, and distribute the resources needed to support the most impacted groups to contain the disease. this disease.