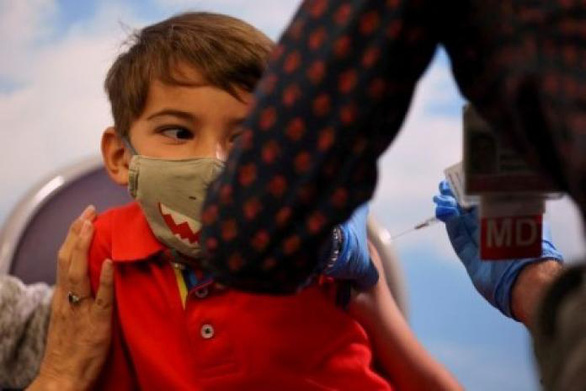 Pfizer-BioNTech says its three doses of COVID-19 vaccine create a strong immune response in children under 5 years old – Photo: REUTERS
According to Reuters news agency, Pfizer-BioNTech insists its COVID-19 vaccine is safe and effective for children aged 6 months to under 5 years if they receive three shots.
Pfizer-BioNTech said it plans to soon require global health authorities to authorize vaccinations for this age group. The US pharmaceutical company said it will complete the submission of clinical trial results data to the US Food and Drug Administration (FDA) this week.
During the clinical trial, this group of children received three injections of 3 micrograms each.
The test results show that the vaccine helps the child's immune system to be strongly activated if the child is given three doses of the vaccine. Specifically, the preliminary assessment results estimated that the vaccine's effectiveness reached 80.3%. The side effects experienced by this group of children were similar to those in the placebo group.
Pfizer-BioNTech says final vaccine efficacy data in this age group will be released when it becomes available.
According to Reuters, 1,678 children received the third dose at least two months after the second dose. Results showed that the vaccine was well tolerated, with most adverse events being mild or moderate.
Currently, the FDA has approved Pfizer-BioNTech's COVID-19 vaccine for children 5 years of age and older.
As planned, in June, the FDA will meet to consider licensing the use of Pfizer-BioNTech's COVID-19 vaccine for children under 5 years of age and Moderna's vaccine for children under 6 years of age with a two-shot dose of 25 micrograms.