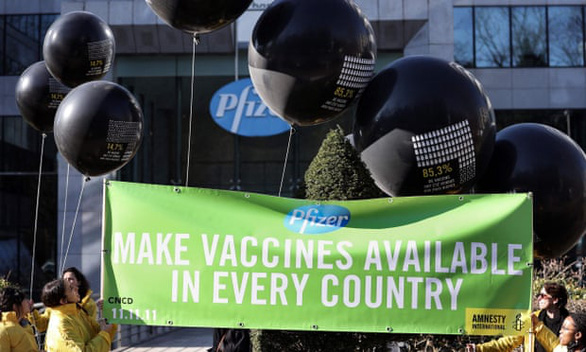 A protest outside Pfizer's office in Brussels (Belgium) in March – Photo: AFP
According to the newspaper The Guardian On May 3, Pfizer (USA) made nearly $ 26 billion in the first 3 months of this year, mostly from COVID-19 vaccines and drugs to treat COVID-19. This has led to Pfizer being accused of profiting from the pandemic.
A COVID-19 vaccine has saved lives around the world and eased the strain on health systems. However, Pfizer has faced criticism over the price of the vaccine and its refusal to give up patent protection to allow other companies to manufacture it.
Last week, 35 campaigners from Global Justice Now, Act-Up London, Just Treatment and Stop Aids protested against so-called "pandemic profiteering". They brought vans full of counterfeit money to Pfizer's office in Surrey (UK) on the day of the company's annual shareholder meeting.
"Throughout the pandemic, Pfizer has refused to share its technology and know-how. Instead, it has maintained monopolistic control of its vaccines and therapeutics, retaining control over them. global supply," said Tim Bierley, pharmaceutical campaigner at Global Justice Now.
"Despite calls from campaigners to allow countries in the south to make their own vaccines and treatments, Pfizer continues to put profit above health," the campaigner said. of human.
Pfizer's revenue almost doubled last year, and now it looks like the company's vault will grow even more. At a time when millions of people still do not have access to a vaccine or treatment for COVID-19, it is heartbreaking for the continued profiteering from this pandemic."
Pfizer announced the company's total revenue of $25.7 billion for the first quarter of this year, up 77% year-over-year. Of this, $13.2 billion came from the Comirnaty vaccine, which they jointly developed with BioNTech (Germany).
In addition, Pfizer collected $1.5 billion thanks to Paxlovid, a COVID-19 pill for people at risk of severe illness. The drug received emergency approval from the US regulator at the end of December 2021 and has also been approved by the UK and the European Union (EU).
Pfizer has made tens of billions of dollars during the pandemic thanks to their COVID-19 related products. Meanwhile, the Boston-based biotech company Moderna (USA) was losing money until it started selling its COVID-19 vaccine.