Fans recognize the song Pink Venom of BLACKPINK already interpolate (reuse a melody from another song with a new mix, but still have a certain resemblance to the original) a piece of melody in a song Press replay by Rihanna.
The video was assembled by fans to compare the segment using interpolate of the song Pink Venom. – Video: @gabgonebad
In 2019, Jennie and Rihanna had a close conversation and took a photo together at a cosmetic event held in Korea. The predestined relationship between BLACKPINK and Rihanna makes fans excited and looking forward to the opportunity of the two sides to work together on an official music product.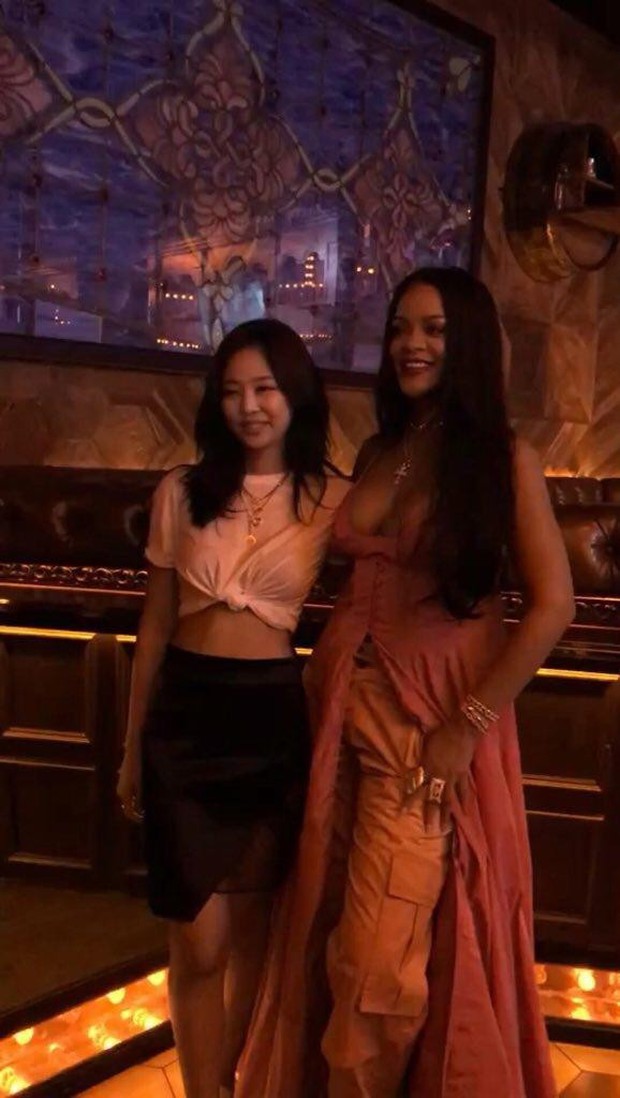 Jennie and Rihanna in the same frame in 2019.
When Pink Venom just released, many fans also recognize the singing part pre-chorus Rosé and Jisoo's melody has a similar melody to the music that was leaked in a livestream by Jeon Somi.
Specifically, on the evening of March 2 of this year, Somi was livestream on Instagram to interact with fans at the office at The Black Label corporate headquarters. Hearing noises outside, Somi decided to check it out. However, after suddenly opening the door of a room, a piece of music accidentally entered. In the music that only 3 seconds accidentally entered livestream there, fans heard the song "No, you can't take me down" and realized it was Jennie's voice.
The lyrics have been changed, but the melody still matches between the music revealed in Somi's livestream and the Pink Venom MV. – Video: @bababanbanana
The piece of music Somi accidentally revealed could be the song demo of the Pink Venom. At that time, YG Ent quickly removed it livestream and copyright the entire clip of this incident on social networks. Recalling this livestream, fans both love and laugh at Somi's predicament.
Today (August 19), before the official release of BLACKPINK Pink VenomSomi posted an Instagram Story expressing her eagerness to look forward to and support her close sisters back on the music track.