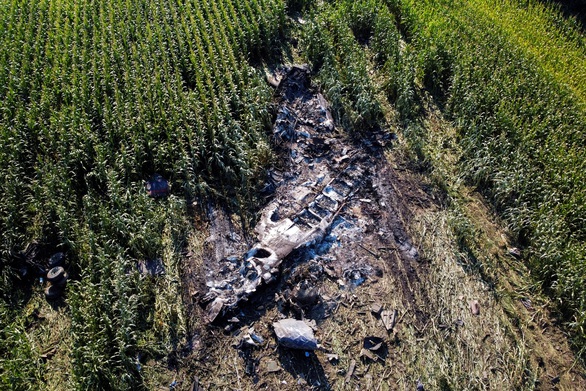 The scene of the Antonov An-12 plane that crashed in Kavla, Greece on July 17 – Photo: REUTERS
According to Reuters, the Ukrainian Antonov An-12 cargo plane, which was on its way to transport ammunition from Serbia to Bangladesh, crashed in an area near the city of Kavala, northern Greece late at night 16-7 local time (dawn). morning 17-7 Vietnam time).
Drone images show debris from the Antonov An-12 plane lying in fields in Kavala. Greek officials quoted a spokesman for Ukraine's foreign ministry as saying that all eight crew members were Ukrainian citizens.
Meanwhile, Serbian Defense Minister Nebojsa Stefanovic said the plane was carrying 11.5 tons of products manufactured by the country's defense industry, and confirmed that all the crew were dead.
According to Stefanovic, the ammunition on the plane contained mortar shells. "The buyer is the Bangladesh Ministry of Defense," Stefanonic confirmed.
The Serbian defense minister added that the cargo on board was owned by Valir, a Serbian company specializing in defense products.
However, Greek authorities did not provide information about the cargo on board. Reuters reported that a Greek disaster response team and weapons experts were sent to the scene to investigate.
State broadcaster ERT said the plane lost contact shortly after the pilot asked Greek aviation authorities for permission to make an emergency landing due to engine problems.
The Antonov's engine caught fire before the plane crashed to the ground and exploded, creating a giant fireball that lit up a corner of the sky.
The An-12 is a propeller-powered transport aircraft, medium range and developed in the Soviet era (former).
The Ukrainian cargo plane caught fire before crashing to the ground and exploding outside a residential area – Source: TWITTER