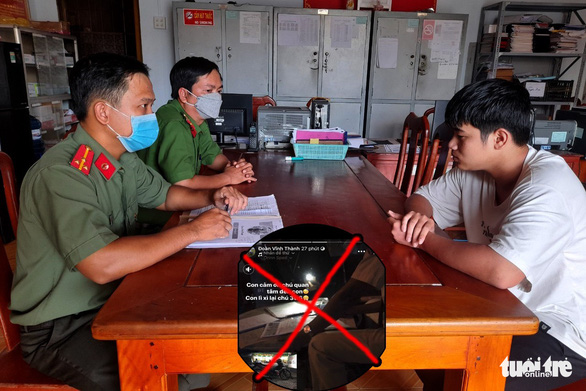 Police agencies work with Doan Vinh Thanh – Photo: HO GIANG
On September 29, the police of Cang Long district, Tra Vinh province said that it had made an education record and made a commitment not to re-offend for Doan Vinh Thanh (18 years old, living in Cang Long town) on the act of providing , share fake information, untrue information, distort, slander, insult the reputation of agencies and organizations, honor and dignity of individuals.
Previously, Cang Long District Police discovered that a Facebook account named "Doan Vinh Thanh" posted a picture of traffic police officers of Cang Long District Police on duty, with the content: "Thank you for your attention. come to me. I give lucky money back to you 3 million 6".
Cang Long district police invited Thanh to head office to work. Here, Thanh confessed that, on the night of September 17, Thanh was checked by the patrol team of the Traffic and Order Police Team of Cang Long District Police and made a violation record with the errors of not having a driver's license, without a mirror. rear, no silencer.
Then, while Thanh was drinking with his friends, remembering that the traffic police made a violation record, he used his phone to post pictures and news bulletins with the above content.
Working with the police, Thanh admitted that he did not have "red money" for the traffic police.
The content posted by Thanh on social networks is groundless and untrue, affecting the reputation of the police force in patrolling and handling traffic safety violations.
According to the provisions of Point a, Clause 1, Article 101, Decree No. 15/2020/ND-CP, dated February 3, 2020, of the Government providing for penalties for administrative violations in the fields of post and telecommunications, Radio frequency, information technology and electronic transactions, for the above acts, Thanh will be fined from 10 to 20 million VND.
But considering that Thanh made an honest declaration, his family situation was difficult, his ability to access and awareness of the law was still limited, so the Cang Long district police educated and made a commitment not to repeat the crime and asked to remove it. Posted content is not true.
In addition, Thanh also complied with the sanctioning decision for not having a driver's license, no rearview mirror, no silencer, with a total amount of VND 3.6 million.