Meanwhile, King Charles III and other members of the royal family, including Prince Anne and Prince William, all wore military uniforms.
During a memorial service at the casket of Queen Elizabeth II in Westminster Hall on September 17, Prince Harry wore the uniform of the Royal Cavalry.
Buckingham Palace officials are said to have intervened so that Prince Harry was allowed to wear military uniform for the ceremony, while his uncle Prince Andrew was also given military uniform for the final vigil a day earlier.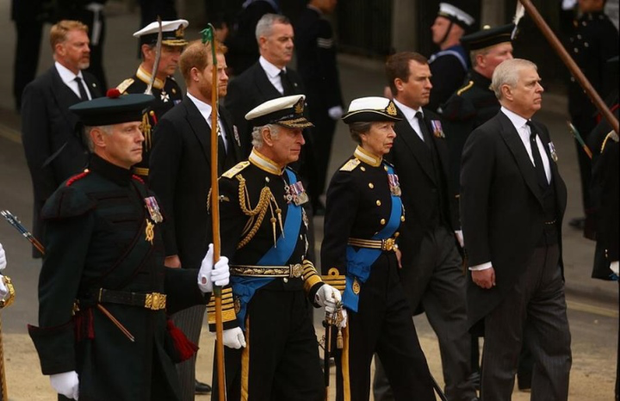 Prince Andrew and Prince Harry in plain clothes. (Photo: Sky News)
A source from Buckingham Palace said the decision to allow Harry to wear military uniform was out of respect for the Queen, who has always advocated harmony and unity.
After relinquishing his royal status in 2020, Prince Harry was banned from wearing a military uniform in public. It was Harry's first appearance in military uniform since relinquishing his royal duties.
The funeral of the late Queen Elizabeth II began at 11am on September 19 (17h Vietnam time) at Westminster Abbey in London.
The national funeral service, which lasted about an hour, was presided over by Father David Hoyle of Westminster Abbey. Many political and religious leaders, including the new British Prime Minister Liz Truss, offered condolences and prayers.
The entire UK also observed two minutes of silence in memory of the late Queen Elizabeth II.
At about 1pm (local time), Queen Elizabeth II's coffin was transferred to a hearse to move to Windsor Castle. There, a procession took place, bringing her coffin to St George's Chapel, where she was interred. The funeral service begins at 4 p.m., lasts about 45 minutes.