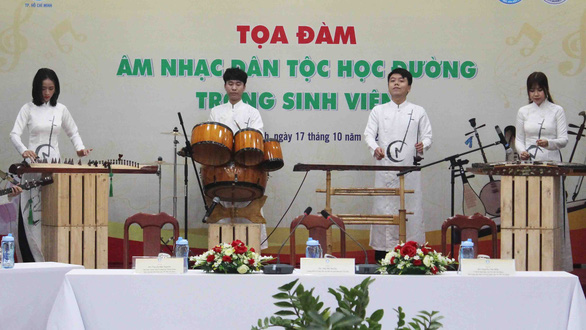 Ethnic music in schools strives to bring national cultural values ​​that need to be preserved into schools in Ho Chi Minh City – Photo: Q.LINH
Organized by the Central Youth Union, the Central Propaganda Department and a number of units on May 11, the workshop provides additional perspectives for Vietnamese youth to take on the responsibility of building and protecting cultural values, especially on cyberspace in the current global and digital transformation context.
The Party and State put all their trust in the young generation. I hope you will selectively absorb the cultural quintessence of humanity and have a strategy to spread Vietnamese cultural values ​​to the world.
Mr. NGUYEN TRANG GIA (Head of Central Propaganda Department)
"Culture remains, the remaining nation"
The concept of cultural border does not seem too familiar to many people, including young people. But to the world, this is seen as soft power, especially when people talk about the fourth industrial revolution, referring to digital transformation with its profound impacts on all aspects of life. society.
Everyone knows that culture has a great influence and influence on the whole society, but it is not easy to fully identify culture.
Citing the affirmation of General Secretary Nguyen Phu Trong at the national cultural conference at the end of 2021, Prof. Dr. Hoang Chi Bao said what leads to the values ​​of Truthfulness-Compassion-America are: culture, and the opposite is counterculture.
According to Professor Hoang Chi Bao, cyberspace is the characteristic of the modern world in the stormy era of information technology. But also in that world, people are at risk of "drowning in information but still starving for information" by confusing countless true – false, true – false information!
"The more society develops, the more it needs the development of culture to guide us" – Prof. Bao said.
Mr. Dinh Ba Thanh (chairman of DatVietVAC Group Holdings) led the story of BTS performing and speaking in Korean at the United Nations, being livestreamed worldwide and expressing his dream why it's not Vietnamese!
Sharing a lot of information, including a statistical quote from an international survey that Vietnam is in the group of 5 countries with the lowest online civilization index in the world in 2020, Mr. Thanh expressed: "Space The Internet should be a place to promote culture, ideas, beliefs and respect for the nation, not a place of negative expression.
Secretary of the Party Central Committee – Head of the Central Propaganda Department Nguyen Trong Nghia said that without bravery and alertness, young people will easily get caught up in negative information, leading to self-evolution and self-transformation.
Mr. Nghia highly appreciated the activities the Youth Union has done to contribute to the cultural education of young people and said that cyberspace is being exploited, the Youth Union must pay more attention to these activities, helping young people to be able to fight against them. what is wrong, bad, incompatible with national cultural values.
Young people receive the mission
Quite a few warnings from experts related to the solution of providing content such as images, messages, calling to users based on taking advantage of the large space of the Internet (abbreviated as OTT).
In addition to the benefits it brings, OTT also contains many risks, that is, malicious, pornographic, anti-terrorist statements … but uncensored will significantly affect perception, Young people's thinking when accessing cyberspace.
Meritorious Artist Xuan Bac said that we have border guards to protect our territorial borders, so we also need "border guards to protect cultural borders online".
"We go to many places to perform, try to be creative to bring art works to the public, but that's not enough. We really need to pay attention to young people's awareness of culture. We need more. a beautiful story, a better example than spreading the news that this artist is getting married and that artist slaps another artist on the internet" – Mr. Xuan Bac said.
Assoc. Prof. Dr. Bui Hoai Son (National Assembly Committee for Culture and Education) said that it is necessary to form a bravery for young people because then they will be able to create cultural products and spread them to the community.
Prof. Dr. Tu Thi Loan expects that there will be many positive information pages to encourage artists, especially young artists, to publish creative and active cultural products and publications on cyberspace, like Meeting the needs of young people, taking good information against bad information.
Standing Secretary of the Central Committee of the Youth Union Bui Quang Huy said that more than 60 papers sent to the seminar were valuable materials for the Union ahead of the 12th National Youth Union Congress.
Affirming that young people will always take on the pioneering role, with the mission of following, inheriting and promoting the good traditional cultural values ​​of the nation, Mr. responsibility in educating the good and the beautiful in young people to know how to selectively absorb appropriate cultural values, to avoid inappropriate things.
"From this workshop, the delegation will develop a report and propose to the Party and Government a number of issues for cultural development in the coming time," Huy said.
Cultural industry
Assoc. Prof. Dr. Nguyen Thi Thu Phuong (Vietnam National Institute of Culture and Arts) said that Vietnam has great cultural heritage resources but has not yet transformed into a cultural industry like some countries have done, making significant contributions. included in the economy.
According to her, our country has attached great importance to the strength of culture, reforming institutions, and has a legal framework for the development of the cultural industry, contributing to GDP, but it is not commensurate.
This opinion also received the agreement of many delegates. Some statements wished the Party and State to invest more, have a longer vision in the trend of deep integration so that Vietnam's cultural industry develops strongly and reaches the international level.
"Let's consider young people as the center and nucleus in cultural creativity because they have abundant creative capacity, the main force in applying technology and acting as a bridge between the present and the future of cultural development. Vietnamese culture" – analyzed by Dr. Thu Phuong.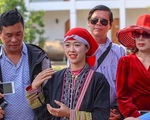 Young girl preserving Dao culture