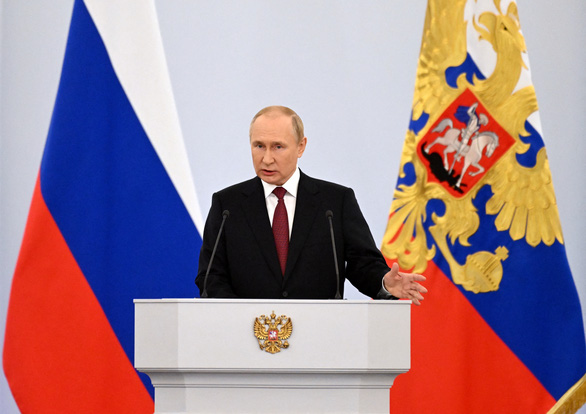 Russian President Vladimir Putin delivers a speech during a ceremony announcing the annexation of the Donetsk, Lugansk, Kherson and Zaporizhzhia regions of Ukraine at the Kremlin on September 30 – Photo: REUTERS
Reuters news agency said that Putin's statement could signal an escalation in the Russia-Ukraine conflict.
The statement was made by him when he presided over a ceremony in the Kremlin to annex the 4 regions of Ukraine after the recent "referendums". He announced that Russia has added four new regions.
These regions are Donetsk, Lugansk, Kherson and Zaporizhzhia – where Russian forces/Russian-backed forces control in large part or in part. These territories account for more than 15% of Ukraine's territory.

"The polls took place and the results were well known. People have made their choice"- said Mr. Putin.
According to AFP news agency, Putin announced thatPeople living in Lugansk, Donetsk, Kherson and Zaporizhzhia have become "our citizens forever".
President Putin also denied seeking to revive the Soviet Union. He accused the West of "continuing to look for new opportunities to weaken and destroy Russia".
Russia recently held so-called "referendums" in four regions of Ukraine's Donetsk, Lugansk, Kherson and Zaporizhzhia regions, and said the majority of residents who voted in favor of the merger.
However, Ukraine and Western countries have criticized these referendums, saying they are coercive, not representative of the whole, and violate international law.