This event contributes to respond to the National Tourism Year with the theme "Quang Nam – a green tourist destination".
Through typical and typical dishes that have existed for a long time in any land, we can see the personality and culture of the people there. For Quang Nam people, it can only be Quang noodles.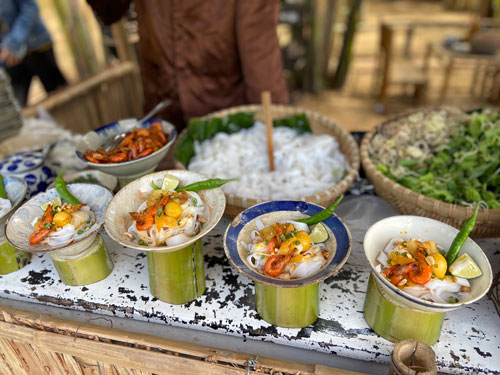 The 1st Quang Noodle Festival takes place from August 5 to 7 at Thanh Chiem village, Dien Phuong commune, Dien Ban town, Quang Nam province. Photo: COCO MI
An interesting thing is that when it comes to this familiar, rustic dish, immediately… the "Controversial Quang Nam" personality emerges again… fiercely. Everyone thinks that Quang noodles must be cooked like this, "spare parts" must be like that… to be "correct", "genuine golden deer". Nine people ten ideas – thus, led to inconclusive debates!
As poet Huynh Truong Phat – a member of the Quang Nam Literature and Art Association:
The smell of "that" of "noodles"
There is a sound of stomping the baby shrimp
Quang noodles go all over the world
Bring the sweet stamens of Quang Nom.
Whatever you say, no matter how "different" Quang noodles are, there are many "similarities". Observing from the reality of 20 Quang noodle stalls made by the people of Phu Chiem village at this festival, we can see that:
It will not be a bowl of Quang noodles, if when we eat that bowl of Quang noodles, we can't feel the fragrance of peanut oil wafting through each noodle. What does that taste say about the Quang people's personality? I think that is the "underground charm" of Quang women. Although not "colorful, fragrant water", "diving birds", once we get to know them, we feel the gentleness, honesty… like the taste of peanut oil, lurking somewhere in each bowl of noodles. Quang.
It would not be a bowl of Quang noodles, if that bowl of Quang noodles lacked the rice paper. But that rice paper must be thick, covered with black sesame and when crushed, we will immediately hear a juicy sound. What does that sound say? It is the noisy, enthusiastic, outspoken, straightforward personality of the Quang man.
Although there is peanut oil flavor, there is rice paper, but it is not a bowl of Quang noodles, without the buffalo horn chili! A kind of big chili, just moderately spicy, put it in your mouth and listen to the "rop" sound, it's very refreshing.
Of course, not only that, there are also "spare parts" attached. For example, in Phu Chiem, after observing the stalls, I noticed that the mothers and sisters only added pork belly, seasoned shrimp, pounded peanuts, and assorted green vegetables. Meanwhile, in many other places, it is now possible to change chicken, frog meat … clearly there is no consistency. This is said by the Quang Nam scholar Nguyen Van Xuan, that is the "democratic character" of the Quang people expressed in the bowl of Quang noodles: Anyone can cook a bowl of Quang noodles according to their "gut" – not There is no such thing as "impression".
There are many different opinions, about the bowl of Quang noodles, I don't dare to discuss in depth. Just ask one question: Why is it that when we return to Quang Nam, with burdens of Quang noodles hawking on the country road, we always see in the kitchen stove, there is always a gentle smoky smoke, a pleasant, seductive aroma following every step. foot of Quang noodle bearer, making us enjoy a bowl of "craving".
So where's the secret? An artisan who has been cooking Quang noodles for more than 50 years, peddling in Phu Chiem village, laughed and said: "Take a few onions and smash them, put them on a griddle and put them in the stove". Is it that simple? There! Only a small detail, though small, has contributed to the identity of that Quang noodle kitchen.
For me, another interesting part is that at the 1st Quang noodle festival, Mr. Le Tri Thanh, Chairman of the People's Committee of Quang Nam province, directly lit the fire in the stove as "instead of saying what you want to say": Please continue. Continue to keep the fire of cooking Quang noodles in every kitchen…
Some pictures at the 1st Quang noodle festival that took place in Quang Nam: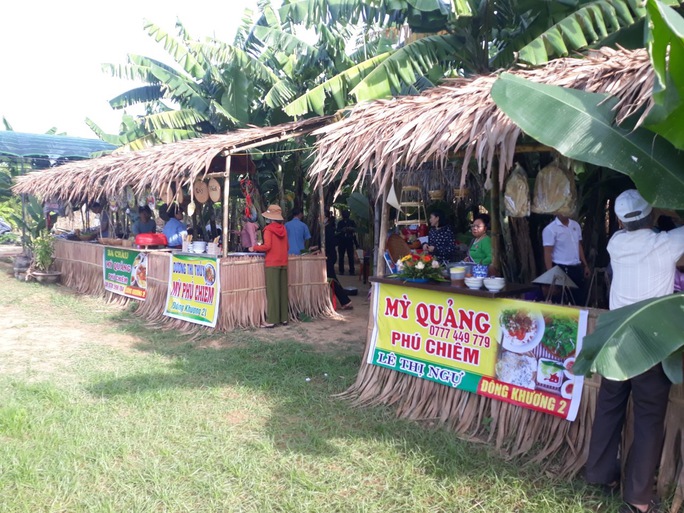 The 1st Quang noodle festival was held in the land of Phu Chiem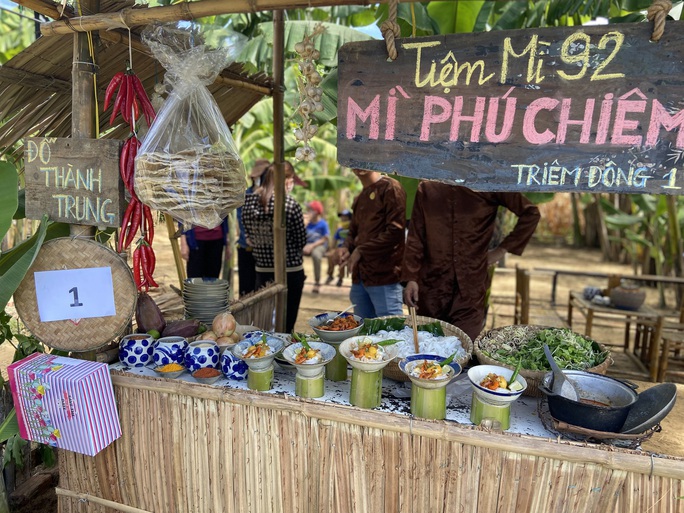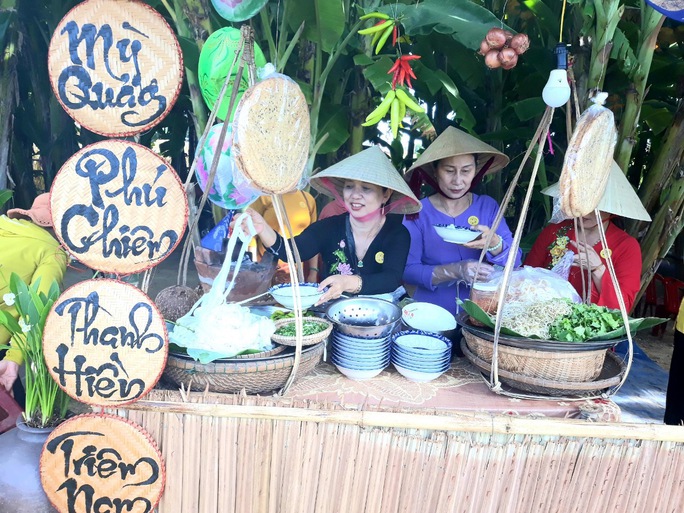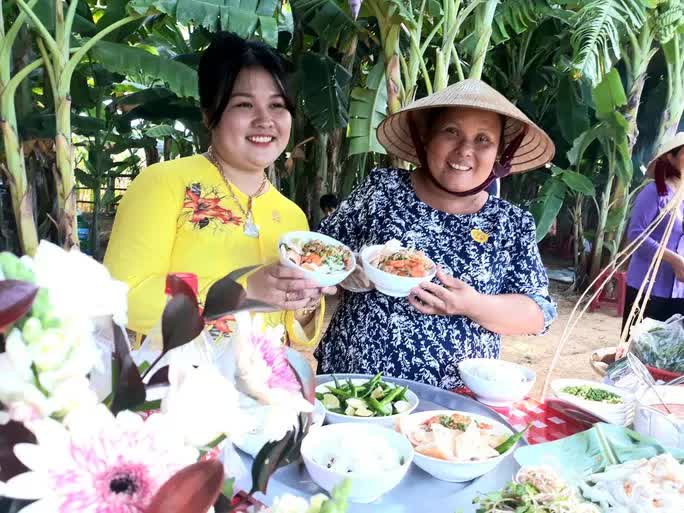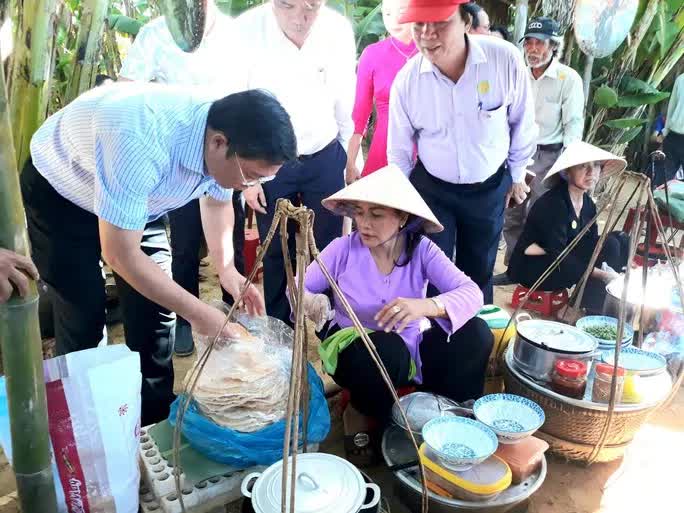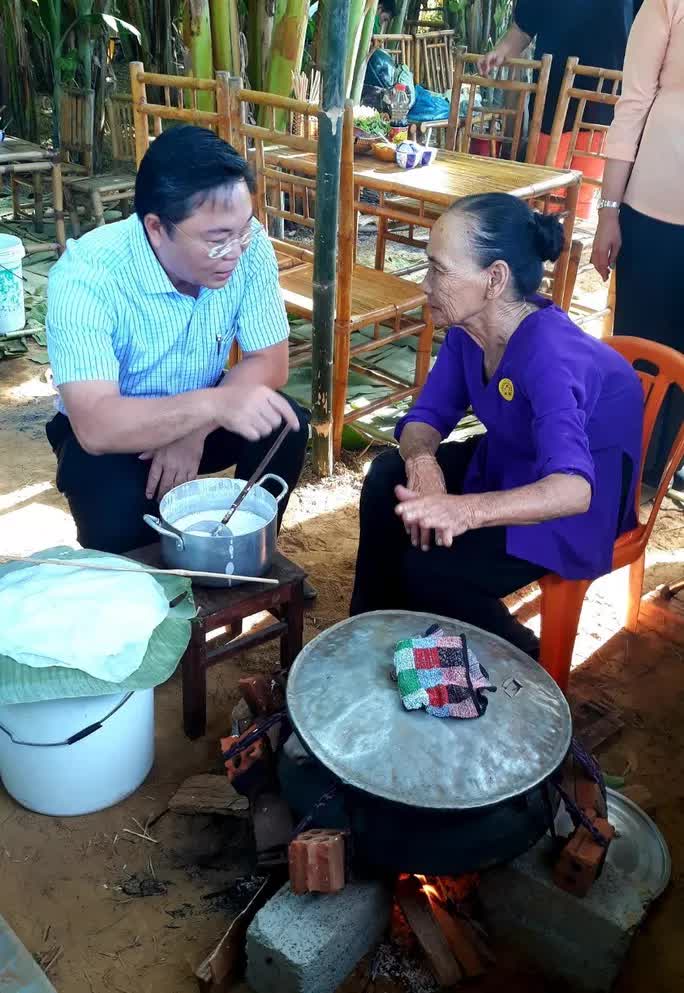 Mr. Le Tri Thanh, Chairman of the People's Committee of Quang Nam Province, talked with the Quang noodle artisan