Doctor Ho Hoai Hung, Deputy Department of Neurosurgery – Tay Ninh Xuyen A General Hospital, said that the hospital had just received a rare and critical case after swimming. Specifically, Mr. N. jumped into the pool without knowing the water was shallow, his head collided with the water near the bottom of the lake. However, he did not feel pain, nor did his head hurt, so he returned home to sleep.
At 20 o'clock, his family called many times to wake up for dinner, but N. did not respond, immediately took him to Xuyen A General Hospital for emergency. Here, Mr. N. was in a deep coma, losing all reflexes. "If a few minutes later, the patient will die," said Dr. Hung.
Hematoma on admission to the hospital caused brain compression. Photo: BVCC
The emergency team immediately brought Mr. N. to a CT scan, the results showed that there was a slight crack in the skull, brain hemorrhage due to a small blood vessel rupture due to trauma. The patient was taken to the operating room to stop the bleeding and aspirate about 150 ml of hematoma.
After nearly 3 hours of intense surgery, the operation was successfully completed. After surgery, Mr. N. continued to receive intensive care as well as comprehensive care at the ICU Department.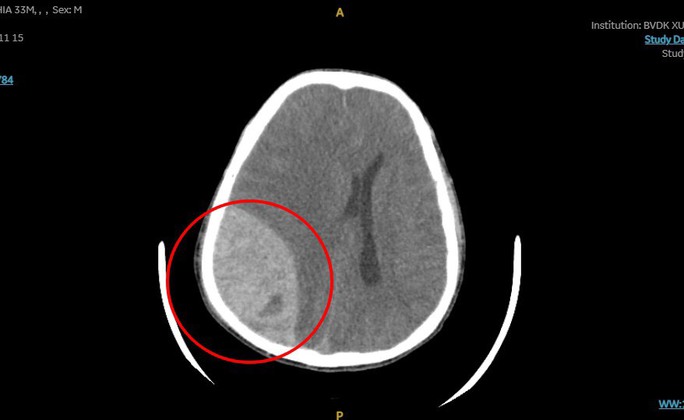 The hematoma was completely removed and the bleeding stopped, Photo: BVCC
According to Dr. Hung, the patient did not leave any sequelae after surgery. Mr. N. can now dress himself, walk, eat, and live normally. In some other similar cases, the patient had sequelae such as hemiplegia.
Doctor Hung recommends that when a patient with a head injury has symptoms of headache, vomiting, inability to eat, lethargy, and fever, they should go to the hospital for examination. Patients should not be subjective because increased blood volume can cause sudden coma or seizures, convulsions.
"This situation is very dangerous if it is not treated at a medical facility. Patients can bite their tongue, foam at the mouth, and after convulsions often have sequelae of brain damage," emphasized Dr. Hung.