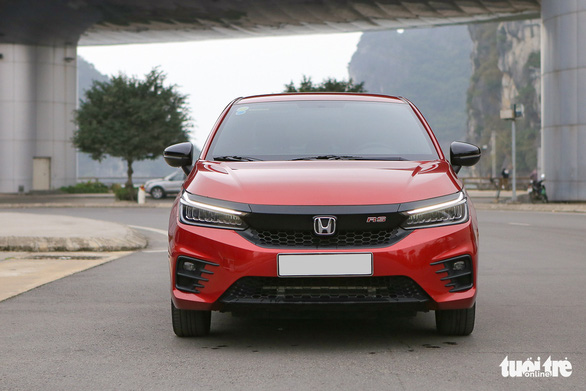 Honda City is the best seller in Vietnam for the second time – Photo: TUAN CAO
According to statistics from the Vietnam Automobile Manufacturers Association, Honda City achieved sublime business results in April, with 3,013 vehicles sold. This is the first time since being sold in Vietnam, this B-sized sedan has achieved monthly sales of more than 3,000 units. More than two years ago, when it first peaked in sales, City reached 2,183 units.
According to the sales consultant, City's sales skyrocketed because it was close to the end of the 50% registration fee discount policy, and there were more incentives at the agent. "In April, City received a cash incentive of about 20 million VND depending on the agent and free accessories. Therefore, sales increased sharply," said a sales consultant in Hanoi.
Compared to March, Japanese sedan sales increased by nearly 73%. Since the beginning of the year, this model has achieved a total sales of 7,273 vehicles. City's sales in the first 4 months of 2022 were equivalent to about 70% of the whole year of 2020, 2021.
Sales of Honda City from the beginning of this year – Graphics: NAM PHONG
However, the sales consultant predicts that business results in May will not be so positive, because of the limited supply. At the same time, most of the current dealers have cut the cash incentive program and only give away the accessory package.
Compared to competitors in the same segment as Vios, Accent, City's sales are still far behind. This is partly due to the fact that the customer base of Toyota and Hyundai is somewhat more specific than Honda's sedan.