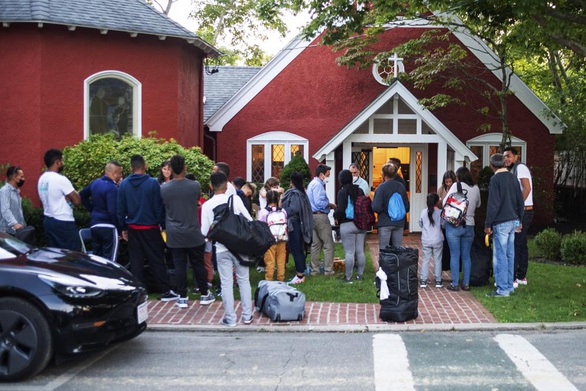 Immigrants gather outside St. Andrews at Martha's Vineyard Island, Massachusetts on September 14 – Photo: AP
Last week, Florida Governor Ron DeSantis sent about 50 Venezuelan migrants to Martha's Vineyard, Massachusetts. By the end of the week (September 17), Texas Governor Greg Abbott deployed a bus carrying illegal immigrants to the area in front of US Vice President Kamala Harris's home in Washington, DC.
Since April, Texas has brought about 8,000 migrants to Washington, 2,200 to New York and 300 to Chicago. Arizona has brought more than 1,800 people to Washington since May, while the city of El Paso (Texas) has brought more than 1,100 people to New York since August 23.

The governors of Texas, Arizona and Florida said they did so to pressure Democratic politicians and the Joe Biden administration to enact tougher measures at the border, amid scene amount immigrant border crossing from Mexico increased abnormally high.
According to the Associated Press, many cities controlled by the Democratic Party have policies that are welcoming to immigrants. For example, New York limited cooperation with US immigration authorities in raids, Chicago issued an ordinance banning asking about other people's immigration status…
Republicans argue that states and cities that adopt welcoming policies should help border communities receive migrants.
According to CBS, the federal government has transported a number of illegal migrants to locations around the country. This practice has been going on for decades in various Republican and Democratic administrations.
For example, the US Department of Health and Human Services still takes minors across the border to different locations to place them in shelters, or return them to relatives or other benefactors in the US.
U.S. Immigration and Customs Enforcement (ICE) also transports some migrants caught along the southern U.S. border to detention centers, or to other areas of the border, to avoid illegal immigration. Overcrowding in detention facilities.
Meanwhile, the state government is allowed to transport migrants in the case of voluntary migrants.
Migrants cheated?
Critics accuse Texas, Arizona and Florida of human trafficking and kidnapping, but there is no evidence that migrants were forced onto buses or planes.
However, the lawyers warned the governments of these states could face civil or criminal liability if the move involved compulsion or provided false information.
Representatives from Texas and Arizona responded that migrants traveling on buses to Washington, D.C., New York and Chicago were all voluntary. They also said they had asked migrants to sign consent forms.
By contrast, lawyers representing more than 20 migrants who flew to Martha's Vineyard said their clients had been duped. Accordingly, they said they were initially told they were going to Boston and a place that provides jobs and refugee services.
Julie Dahlstrom, director of the Human Trafficking and Immigrant Rights Program at Boston University Law School, said authorities still need more evidence to verify and this is a "tough legal question". ".