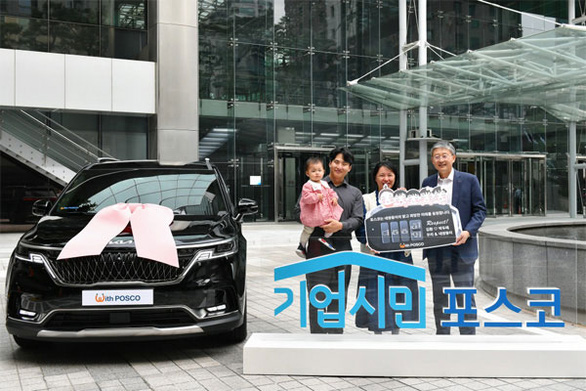 Kim and his wife and their eldest daughter came to receive a car from construction steel company POSCO on September 28 – Photo: POSCO
According to the Hankyoreh daily newspaper, steel company POSCO has just given a 9-seat car and some incentives to a married employee who gave birth to 4 children by normal delivery method.
On August 24, Kim Hwan and Park Doo Ree gave birth to four babies, including two girls and two boys, by normal delivery at Seoul National University Hospital.
This is the first case of quadruplets by natural birth method in Korea.
Especially the four babies in the quadruplet are identical and natural quadruplets are extremely rare in the world with a rate of only 1 in 70 million.
It is known that before giving birth to four, the couple had a baby girl.
To ease the burden of raising five children, POSCO, a steel construction company where Mr. Kim is working, has supported 20 million won in childbirth costs and donated some essential baby essentials. up to two million won.
The company also supports the entire child care service fee until the four babies turn one year old.
Sharing with Hankyoreh newspaper, Kim Hwan said that before getting married, he wanted to have many children, but after giving birth to his first child, he gradually felt the difficulties and hardships in raising children, so he I was quite worried when I learned that my family was about to welcome four new members at the same time.
"Four children came to me and my wife like a miracle and my husband and I will always try to be able to raise them to grow up well," Mr. Kim confided.
The POSCO side also added that in order to be able to support Mr. Kim's family in raising and taking care of the children, they will create conditions for him to work as an online hospital but still enjoy the full salary as before.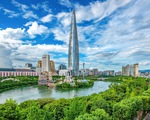 Green living Korean style in the heart of Quy Nhon