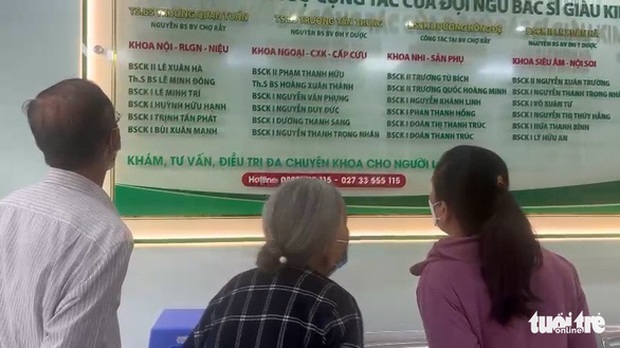 Information board at Saigon Go Cong general clinic, with the names of many doctors from hospitals in Ho Chi Minh City – Photo: T. DUONG
Monday, September 12, at 6 a.m., at the Saigon Go Cong general clinic (No. 6/5 Nguyen Trong Dan, cluster 4, ward 3, Go Cong town, Tien Giang), many patients were seated. waiting in front of the clinic.
Every day there is a public doctor in a private clinic
The medical examination schedule here clearly shows the names of many doctors (BS) from public hospitals in Ho Chi Minh City. The endoscopic calendar section records BS CK1 Huu An (Monday, Tuesday, Sunday), Doctor CK1 Xuan Tu (Wednesday), Doctor CK2 Xuan Truong (Thursday, Saturday), Doctor Le Minh (Friday). According to research, all four of these doctors are working at Thu Duc City Hospital.
At nearly 8 o'clock on the same day, Dr. An was present and began to examine patients with cancer. Then, Dr. An went to the endoscopy room. We signed up for a neck cyst. Doctor An ordered an ultrasound.
Looking at the ultrasound results, Dr. An commented that this cyst is small and does not need surgery but needs to be monitored every 6 months, and if you want, you can needle to test cells. Dr An said his working schedule at this clinic is on Monday, Tuesday, and Sunday.
At more than 7 a.m. on September 15 (Thursday), Doctor 2nd General Nguyen Xuan Truong – deputy oncology department of Thu Duc City Hospital – was present at Saigon Go Cong general clinic to examine oncology and endoscopy for patients. . Doctor Truong performed minor surgery on a patient, then went to clinic 14 to check for cancer and went to the next room to endoscopy for the patient.
On September 21, we just made an appointment to meet Mr. Le Minh Tri, director of Saigon Go Cong General Clinic. Mr. Tri said the clinic has been operating for more than two years. Sai Gon Cai Lay Polyclinic is also part of a chain with this clinic.
According to Mr. Tri, during the week, Dr. An had three visits at the clinic in Go Cong, sometimes he went to Cai Lay clinic for one examination. Similarly, Dr. Truong examined twice at Go Cong clinic and one session (Friday) at Cai Lay clinic.
According to Mr. Tri, the doctor will be paid 1.5 million VND for a day of examination. In addition to this "hard" amount, doctors are also paid an additional amount based on the number of patients who come to the clinic for the day.
Called out of the blue, the doctor was nowhere to be found
On the morning of September 27, we had a meeting with the leaders of Thu Duc City Hospital. When it was reported that there were four doctors in the hospital who skipped work at the hospital to go to a private clinic for medical examination and today is Dr An's working day at this private clinic, Mr. Vu Tri Thanh, deputy executive director of Thu Thiem Hospital Duc, suggested that Ms. Tran Thi Thuy Tien, deputy head of the hospital's staffing department, check under the oncology department to see if Dr. An is working or not.
Under the faculty, currently, Dr. An is not present in the department.
When Ms. Thuy Tien called Dr. An (and played the loudspeaker for everyone to hear), Mrs. Thuy Tien asked: "Did Dr. An have a day off today to report to the dean?". "Tuesday I don't work at the hospital, just give me medicine and then go home" – Dr. An replied.
Mr. Thanh asked: "This morning, did you record the medicine?". "There is a record…," replied Dr. An. Mr. Thanh suggested that Dr. An be present at the hospital immediately, Dr. An promised to be present about an hour later because of "housework". More than 1 hour and 20 minutes later, Dr An was still not at the hospital. There were also no records signed by BS An within the day.
Ms. Thuy Tien said that the hospital has checked the applications for permission to practice after hours of all doctors in the hospital. All four BS that PV reported Youth There was no application for permission to work overtime in the province.
According to Mr. Thanh, on the morning of September 28, the hospital's personnel department worked with these four doctors. All four doctors wrote a report and admitted to participating in the examination at the Saigon Go Cong clinic. An average of 2-3 days a week, BS Truong visits 2-3 days, the other two doctors only examine 1 session / week.
Doctor Truong started to come down to examine from the past two months, the rest of the doctors started working from March 2022. All four BSs admitted they were wrong and gave reasons for economic difficulties.
Mr. Thanh said that in the near future, the hospital will set up regular teams to check on the compliance with the hospital's hours and regulations. The hospital will also implement fingerprint time attendance twice a day. The hospital will also strictly handle these cases.
Are there many other doctors who are also running away from work?
According to Mr. Le Minh Tri, the clinic he is in charge of not only collaborates with doctors at Thu Duc City Hospital but also many other public hospitals in Ho Chi Minh City. Every day, the clinic's ambulance will pick up 8-9 doctors from Ho Chi Minh City.
Many other clinics are also doing it this way.