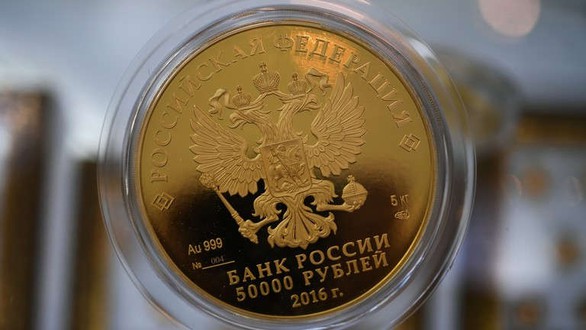 The Kremlin said it was discussing the valuation of the ruble in gold – Photo: SPUTNIK
Reuters reported, on April 29, the Kremlin said that Russian President Vladimir Putin was discussing peg the ruble to gold and other commodities. The move, if approved, would link Russia's currency directly to gold for the first time in more than a century.
Russia's financial system has been damaged by Western sanctions since Moscow launched its military operation in Ukraine on February 24.
Asked about the idea, Kremlin spokesman Dmitry Peskov told reporters that "the matter is being discussed with President Putin".
However, the governor of Russia's central bank, Elvira Nabiullina, told reporters the idea was "not discussed at all".
Russia produces about 10% of the gold mined globally each year, and is a major producer of oil, gas, metals and grains.
In an effort to link the ruble to gold, Russia's central bank said in March it would buy gold at a fixed price of 5,000 rubles per gram until June 30.
But two weeks later, when the ruble appreciated sharply, Russia's central bank changed and said it would buy at a negotiated price.
Many currencies in the past were pegged to gold or silver. Russia adopted the gold standard in 1897 but, like many countries, abandoned it during World War I.
After World War II, countries linked their currencies to the US dollar pegged to gold. But the link with gold stopped when the US stopped allowing the conversion of dollars to gold in 1971.