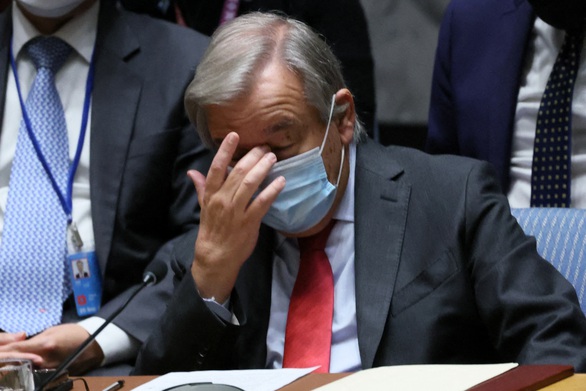 United Nations Secretary-General Antonio Guterres – Photo: REUTERS
"We regret to hear such statements from United Nations (UN) Secretary-General Antonio Guterres," Reuters news agency quoted a statement on September 29 of the Russian delegation to the United Nations.
The Russian side accused when facing the problem UkraineMr. Guterres has repeatedly shown a similar approach to the West, while arguing that he is not qualified to represent all UN countries to make political statements.
"Literally speaking, the Secretary-General is in the same team with those countries (Western – PV)", the Russian delegation expressed its attitude.
Before that, the Secretary-General UN Anthony Guterres expressed concern about Russia's imminent annexation of the four regions of Donetsk, Luhansk, Kherson and Zaporizhzhia that it controls in Ukraine. These territories cover about 15% of Ukraine's area, about the size of Hungary or Portugal.
The merger ceremony is scheduled to be held in Moscow on September 30 with the attendance of Russian President Vladimir Putin.
"The move goes against international law, against all that the international community is defending. It's a defamation of the principles and purposes of the UN. This action cannot survive. in the modern world and we cannot accept it," Secretary General Guterres emphasized on September 29.
Not only calling Russia's move a "dangerous escalation", Mr. Guterres also declared any action to legalize the annexation of the above territories "worthless" and "deserving of condemnation".
Referring to the results of the referendums held in the above regions, Mr. Guterres said that these activities are outside the legal framework of Ukraine and that Russia's actions are endangering the peace process. .
In addition to Mr. Guterres, US President Joe Biden also vowed never to recognize the Ukrainian territories that Russia is about to annex and seek to legalize.
At a conference with Pacific island leaders on September 29, the US leader also rejected the results of the referendums, describing them as "made in Moscow".
Turkish President Tayyip Erdogan called on Russia to reduce tensions in Ukraine and expand an agreement to export Ukrainian grain through the Black Sea during a phone call on September 30.
In response, Russian President Putin said that the referendums in Donetsk, Luhansk, Kherson and Zaporizhzhia were completely transparent, in full compliance with international law, including the UN Charter, according to Tass news agency. .