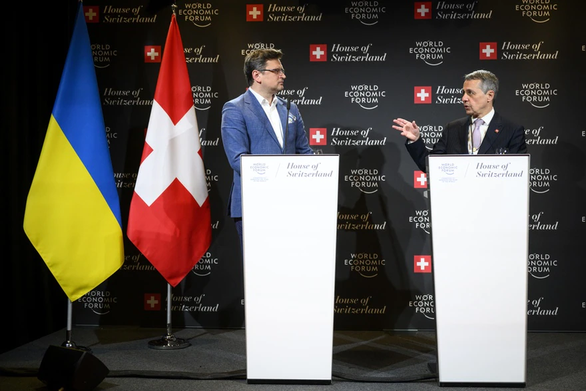 Ukraine's Foreign Minister Dmytro Kuleba (left) and his Swiss counterpart during a meeting in May – Photo: AFP
Switzerland has a long diplomatic tradition of acting as a mediator between countries with adversarial relations.
Kiev severed diplomatic ties with Moscow after Russia sent troops into the country on February 24 in the name of a "special military operation" and recognized two breakaway territories in the east.
On August 10, the Swiss Foreign Ministry said Bern had received a request from Kiev to have Switzerland represent Ukraine's interests in Russia.

At a press conference on August 11, Russian Foreign Ministry spokesman Ivan Nechayev confirmed that Bern's government had raised an issue with Moscow on the matter.
However, Mr Nechayev revealed that Russia has rejected Switzerland, considering its moves in the past few months.
"We answered very clearly that Switzerland has lost its status as a neutral country and can no longer act as an intermediary or representative. The Bern government has engaged in illegal sanctions. Western methods against Russia", Mr Nechayev further explained.
The representative of the Russian Foreign Ministry also expressed confusion when Bern on the one hand supported Kiev and condemned Moscow, on the other hand, wanted to behave as a neutral and good-willed country.
The Swiss media previously reported that Switzerland's main goal in its proposal to Russia was to make it possible for Ukrainians living in Russia to receive consular services from the Swiss Embassy in Moscow.
The first time Switzerland acted as an intermediary, representing the interests of other countries that were competing against each other was during the Franco-Prussian War of 1870-1871.
Since that time, this wealthy country located in the Alps has acted as an intermediary hundreds of times. Currently Switzerland is representing the diplomatic interests of a wide range of countries including Russia's interests in Georgia and vice versa.