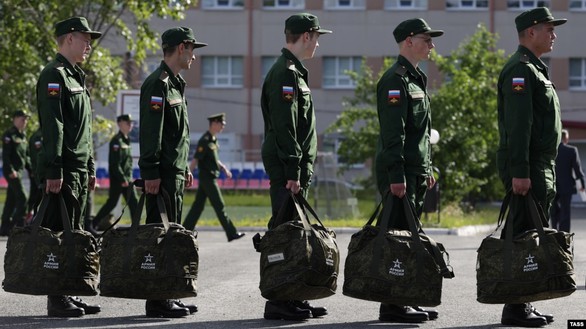 Members of the Russian reserve forces – Photo: TASS
According to the Russian Defense Ministry, the first priority is trained reservists such as tank operators, artillery crew members, drivers, mechanics and motorized infantrymen. The ministry also said combat experience was "one of the important factors" in this mobilization.
The Russian Defense Ministry said the military plans to mobilize both servicemen and officers of all levels. Reservists aged 35 and under can be called up, while the age threshold for officers is 50-55, depending on rank.
Each region will be required to mobilize a certain number of reservists, depending on the population of that area, but the Russian Defense Ministry did not disclose the exact number.
The RIA Novosti news agency quoted Alexander Avdonin, the military commissar of the Yakutia region, as saying that each person participating in the partial mobilization will receive 205,000 rubles a month (about $3,400), and the amount can be more depending on the rank as well as depending on the decision of each region.
Those who work in the defense industry, as well as those who do not meet health standards, have at least four children, or are caring for a loved one with a disability, will be exempt from mobilization.
On September 21, Russian President Vladimir Putin issued a moratorium on partial mobilization at the request of the Ministry of Defense and the General Staff of the Russian Army, in the context of the protracted conflict with Ukraine.
Russian Defense Minister Sergei Shoigu said the partial mobilization would mobilize about 300,000 reservists. He said Russia has a total of 25 million troops in reserve. He explained that the troops mobilized this time were tasked with controlling the 1,000km line in Russian-controlled areas in Ukraine.