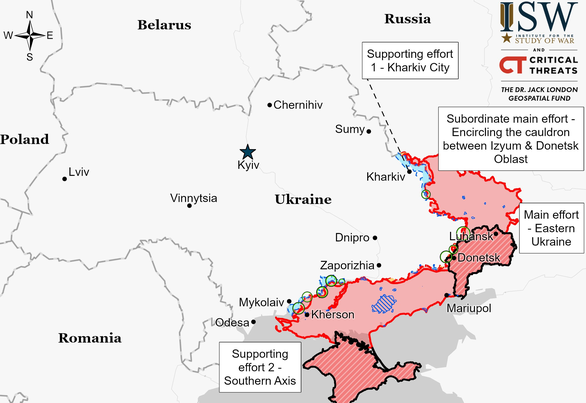 Areas Russia controls in Ukraine (red) as of September 6, according to calculations by the US-based Institute for the Study of War – ISW screenshot
"It will be very right and symbolic if the referendums are held on November 4," Turchak stressed in an article posted on the official website on September 7.
The Russian senator also mentioned sociological investigations in the Donbass and parts of Ukraine that Russia controls, noting that people here have long been looking forward to merger referendums.
"Donetsk, Lugansk and many other Russian cities will eventually return to the same place. And the Russian world, now divided by official borders, will regain its integrity," the party's secretary general ruling in Russia confirmed.
It is no coincidence that Mr. Turchak, who is also a senator, proposed to choose November 4.
According to Tass News Agency, this is the anniversary of the liberation of the capital Moscow from the invaders in 1612 and since 2005 has been chosen as the Day of National Unity of Russia.
Ukraine and other countries have not yet commented. Ukrainian officials earlier on the same day announced the opening of new counter-attack fronts to push Russian troops home.
Russia sent troops into Ukraine on February 24 after recognizing the two breakaway regions of Donetsk and Lugansk as independent states. These two provinces are in the Donbass region of Ukraine and border Russia.
Since 2014 until now, this is the place to witness the fighting between the Ukrainian army and pro-Russian separatists.
It is not clear how Western countries will react if the regions Russia currently controls in Ukraine become part of the Russian Federation.
In 2014, after tense political developments in Ukraine that led to the departure of President Viktor Fedorovych Yanukovych, Russia annexed the Crimean peninsula through a referendum.
The result of this referendum is still controversial and has never been acknowledged by the West or Ukraine. In official Western documents or statements, the Crimean peninsula is mentioned as an occupied territory.
Russia currently controls more than a fifth of Ukraine's territory after more than six months of sending troops into the country. Most of these regions are located in eastern Ukraine (bordering Russia) and southeastern Ukraine (bordering Crimea).