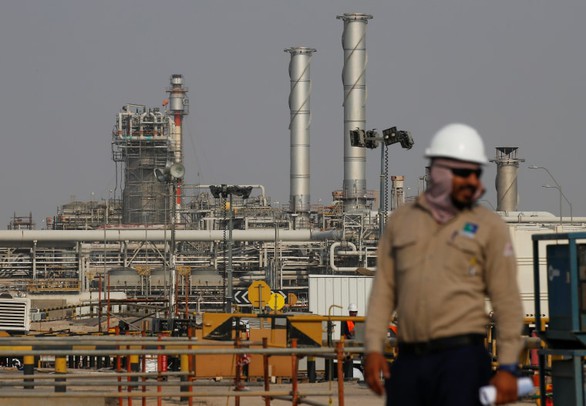 An employee looks after the Saudi Aramco oil facility in the Abqaiq region – Photo: REUTERS
On July 18, the oil contract (WTI) on the New York Mercantile Exchange (NYMEX) rose 5.1%, at $102/barrel.
At the conclusion of President Joe Biden's visit last week, Saudi ministers insisted that oil decisions would be dictated by market logic and in agreement with foreign investors. alliance partner (OPEC+).
Iraqi oil minister told news agency Bloomberg that he sees oil trading for over $100 for the rest of the year.
Dennis Kissler, senior vice president of trading at BOK Financial (25 leading US-based banks) – said this week's rally in oil prices was largely driven by a weaker dollar and The stock market rallied higher.
"Saudi Arabia shows no sign of an immediate increase in production, which suggests that last week's sell-off may have been overstated," he added.
Crude oil prices have tumbled since mid-June on fears of a potential recession ripping through commodity markets, eroding profits following Russia's military campaign in Ukraine.
Last week, the world oil price fell sharply, although it recovered somewhat in the trading session on July 15. Closing this session, the price of crude oil (WTI) for August delivery increased by 1.9%, to $97.59/barrel. Brent oil price for September delivery increased 2.1% to 101.16 USD/barrel. But for the whole week, WTI crude oil price fell 6.9%, while Brent oil price fell 5.5%.
However, President Biden still wants the Organization of the Petroleum Exporting Countries (OPEC) to add supply to lower prices and quell inflation.
OPEC and the OPEC+ alliance will meet on August 3 after members agreed to restore crude oil supplies that have been halted during the COVID-19 pandemic.
Analysts at RBC (one of the largest banks in Canada and the world) think that Saudi Arabia and several other producers are likely to make another modest supply increase.
Elsewhere, Libya is in the process of restarting crude oil shipments. Prime Minister Abdul Hamid Dbeibah said the country's oil exports were on track to fully recover after months of shutdown.
South Africa's largest fuel producer has announced that the supply of petroleum products has encountered force majeure due to a delay in the delivery of crude oil to the Natref refinery, which they jointly own.
Russia moves closer to cutting gas to Europe
Russian energy giant Gazprom has declared force majeure on some of its gas supplies to Europe.
According to the news agency Reutersa letter from Gazprom argued that the corporation could not fulfill its gas supply obligations because of "force majeure" circumstances.
The force majeure clause, used to protect a business from factors beyond its control, comes into effect retroactively for deliveries starting June 14.
The letter mentions supplies through the Nord Stream pipeline to Germany, which is currently closed for planned maintenance.
The move raised concerns that Russia's gas supplies to Europe would be cut off altogether.