LCT patient (male, 52 years old, residing in Van Ninh commune, Quang Ninh district, Quang Binh province), was admitted to the hospital because of abdominal pain and vomiting.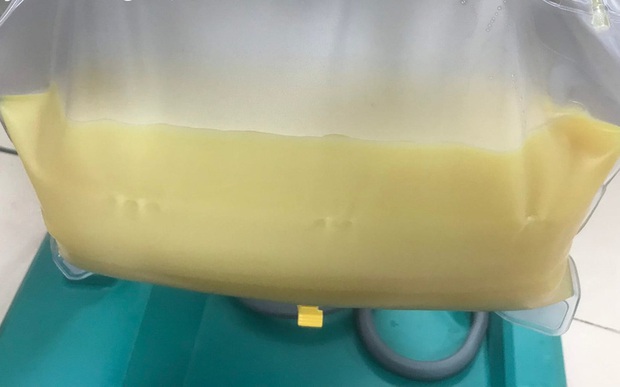 The patient's plasma is milky white. Photo: BVCC
After being examined by doctors and performing necessary tests, the patient was diagnosed with acute pancreatitis due to hypertriglyceridemia.
The patient's plasma was milky white and his blood triglyceride level was 91.32 mmol/L (45 times the normal value).
Result of abdominal computed tomography: image of Balthazar E acute pancreatitis, with moderate amount of abdominal fluid. The patient was consulted urgently, performed abdominal drainage, plasma exchange.
The patient received a plasma exchange. Photo: BVCC
Results after plasma exchange with 14 units of fresh frozen plasma, the patient's blood Triglyceride concentration decreased to the treatment target, the patient's condition improved gradually. Currently, the patient is awake, pain free, vital signs are stable.
According to BSCKI. Nguyen Dai Viet Duc, Head of ICU – Anti-toxic, acute pancreatitis is an acute process of pancreatic injury, the disease often occurs suddenly with diverse and complicated clinical symptoms from acute pancreatitis mild to severe (necrotic form) with complications of severe multi-organ failure, high mortality.
Currently, plasma exchange therapy (PEX) is a modern technique that is routinely applied at the Intensive Care Unit – Antitoxicity. In addition to the indications for acute pancreatitis due to increased triglycerides, PEX also applies to liver failure, neuromuscular disease…