Korean technology car wash startup believes Vietnam is the second "Silicon Valley", wants car mechanics after 2 years to become bosses
Tim Lee, 37 years old, a Korean who brought Carrect to Shark Tank Vietnam, called for an investment of $400,000 in exchange for a 13% stake in the company. This is a case that makes all Sharks excitedly question the business model, and then simultaneously "turn the wheel" when asked about financial issues.
Carrect is a business providing premium car care services. Not only providing car wash services, this startup also changes engine oil, replaces batteries. Along with that, Carrect develops an AI quote application so that customers can estimate the price within 5 seconds.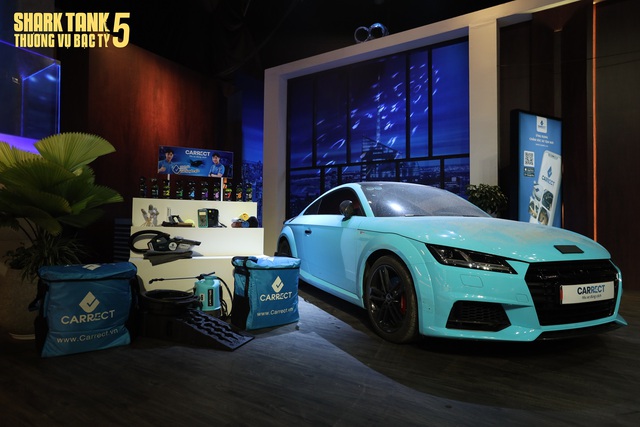 Introducing Carrect's car wash service, Tim Lee said that this business is using Nano technology to be able to absorb dirt. Carrect's service costs about 250,000 VND and only needs about 2 liters of water, depending on the size of the car. "We save at least 100 liters per car wash", Tim Lee confirmed. Carrect has performed service for 10,000 cars in Vietnam and has never received any complaints.
According to Tim Lee's introduction, in Korea, this service is very popular. In many countries like USA, Dubai, Italy, Japan, many similar business models have been successful. Recently, a company in Indonesia raised an investment with a valuation of more than 10 million USD. Tim Lee is confident that his service can reach other ASEAN countries faster than any of its competitors because Carrect recently has a new co-founder based on technology.
Tim Lee grew up in Silicon Valley, working in auto maintenance for 2 years while serving in Korea. Therefore, he knows a lot about maintenance of automotive technical equipment. He holds a bachelor's degree in the US and an MBA in Korea. He has a background in marketing and has traveled to more than 40 countries to carry out online (online) and offline (live) marketing campaigns.
"I came to Vietnam 3 years ago, and I believe Vietnam will be the second Silicon Valley", said Tim.
Carrect currently has 50 employees, of which 35 are freelancers, operating in Hanoi and Ho Chi Minh City and will expand to Da Nang in September.
"We keep taking orders and we usually give them to freelancers because I don't want them to be treated so badly from their owners in the garage."
"I want them to have a high salary, work anytime. I want them to be the boss after 2 years with Carrect, and that is the attraction of our business strategy now.", said Tim.
Burning hard money and not sure when to reach breakeven point
Previously, Tim Lee raised an investment of $400,000. In addition, he also has a backup fund from the Korean Startup Center under the Korean Government. This center gave him 100,000 USD to promote the ASEAN market.
"You raised $400,000. You spent a lot of time raising money? And now you're raising more? Is this too early or should you build the company before trying to raise money?", Shark Louis questioned.
Tim believes that the decision to raise capital from investors is the right choice.
Regarding financial figures, Tim's presentation is confusing about the profit figure, when he thinks that 2022 revenue will reach $ 1 million and a profit of $ 350,000, a "burning" rate of nearly 30%.
"If you have profit then you don't have a "burn" of money. You only "burn" of money if you have a negative profit", Shark Linh questioned.
Once I raise $400,000 in Shark Tank, we'll be using them in just 1 year
A little confused, Tim Lee said that Carrect is currently having a negative profit, losing 40% of over $ 1 million, the reason for having to divide the commission rate must be divided among the garage.
"The $1 million in revenue is still a loss, right? So when do you get to breakeven?"Shark Hung asked.
Tim Lee shared, with $ 400,000 raised in Shark Tank, he will use it in the next 1 year. After that, Carrect is ready to spend in Malaysia and Singapore, he will no longer need to raise capital.
"Once I raise $400,000 in Shark Tank, we'll spend it in just a year. And then we're ready to spend it entirely in Malaysia and Singapore. I don't need to raise funds anymore or I wanted a form of continued revenue generation. So at this point, I can't say an exact date when breakeven will be reached."shared by Tim Lee.
Shark Linh finds out if the startup has financial staff in its operations team. Tim Lee said, Carrect has an accountant. However, most of the financial work will be controlled by him.
Shark Lien, Shark Binh and Shark Linh in turn refused to invest. Shark Linh thinks that the problem that Startup is facing is in the team. She advised Tim Lee to review his work team to recruit personnel for the missing field.
"OK Tim, you're a nice guy. I don't understand why the previous investors poured money into you. I'm really surprised you've raised $400,000, but you're not ready to talk about your business model in public."
"You're a nice guy, but you need to be sure and precise when you talk to us investors. You're not ready for finance. You say you handle finances, but you're not. know profit and loss forecast"Shark Louis said and refused to invest.
"How can I exit if you're still burning money with no profit?", Shark Hung asked and also refused to invest.
https://cafebiz.vn/tiet-kiem-100-lit-nuoc-lan-rua-xe-startup-han-quoc-khien-cac-shark-hao-hung-roi-dong-loat-quay-xe-vi-nang-luc-dot-tien-khong-ro-khi-nao-hoa-von-20220801100255198.chn