Functional forces handle violations of stopping and parking on Long Bien bridge late at night September 20 – VIDEO: PHAM TUAN – NGUYEN BAO
After reflection of Youth Online about the fact that hundreds of motorbikes stopped and parked closely, extending for kilometers on Long Bien bridge, Hanoi (towards Tay Ho district) to catch the wind, obstructing traffic, dangerous for pedestrians,On September 20, police of Ngoc Lam ward (Long Bien) coordinated with Ha Hai Railway Joint Stock Company (the management unit of Long Bien Bridge) to organize a patrol.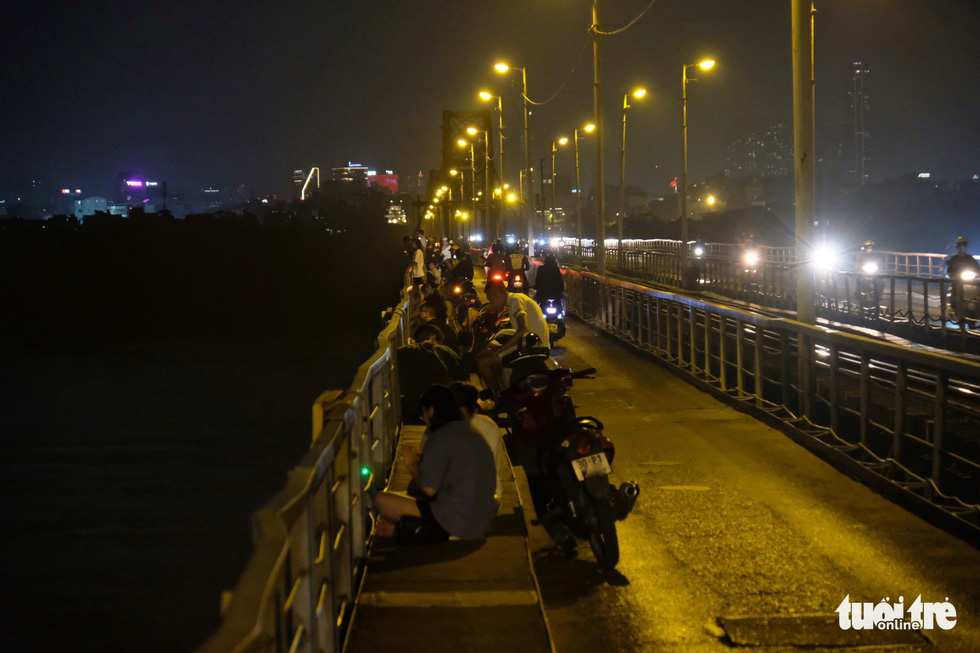 Long Bien Bridge at 21:00 on the night of September 20, in the photo, a long line of vehicles stopped to cool off on the bridge – Photo: NGUYEN BAO
Following the footsteps of the authorities, recorded by Tuoi Tre Online at 9 pm, although in the middle of the week, on Long Bien bridge, there were still more than 20 cars parked beside the bridge to cool off. Many groups of young people also bring drinks and alcohol to the bridge to "change the wind". It is worth mentioning that when the functional forces appeared, many couples quickly "ran away and ran for people".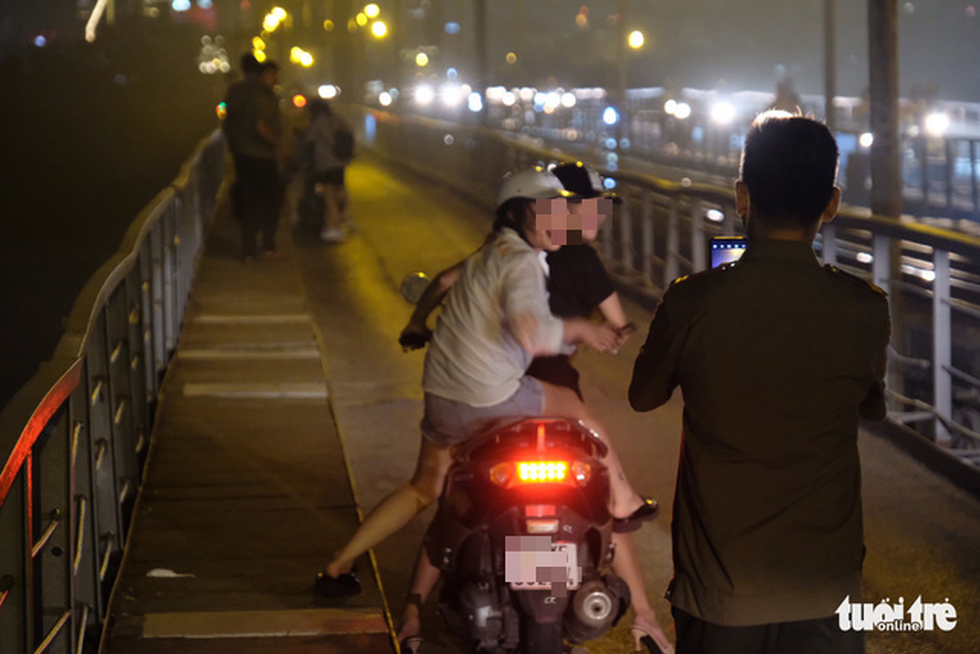 Before the appearance of the functional forces, many young people quickly fled – Photo: NGUYEN BAO
The patrol team promptly handled violations and made minutes of many cases of stopping and parking motorbikes on the bridge. However, many violations still successfully escaped.
When seeing the functional force handling violations of illegal parking on the bridge, many people moving across Long Bien bridge were very supportive of the move.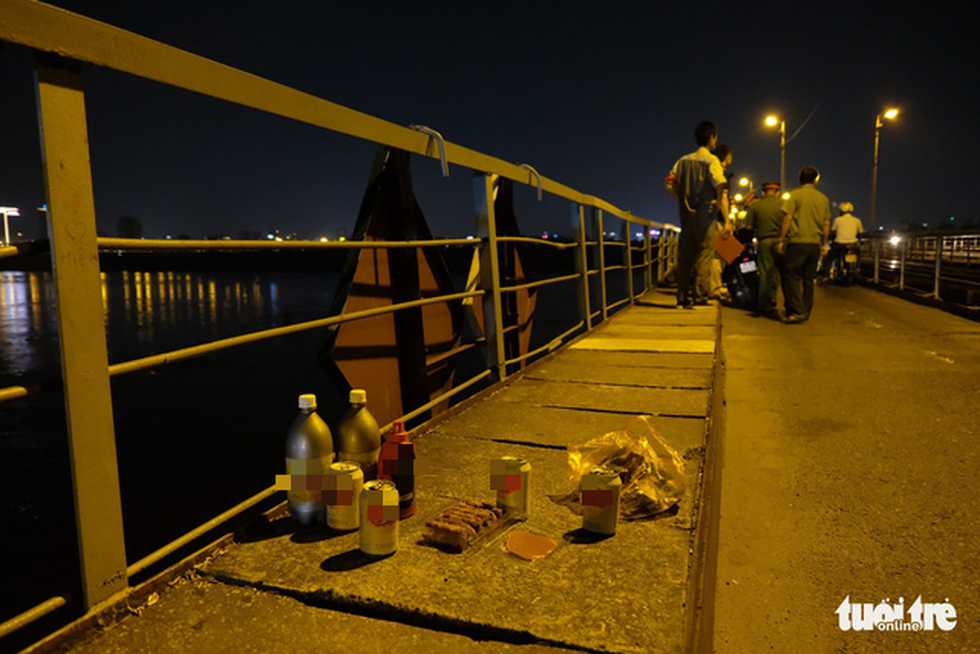 A group of young people brought drinks to the bridge, when they saw that the functional forces had "left their possessions and ran for people" – Photo: NGUYEN BAO
Captain Vu Hong Son – Police officer of Ngoc Lam ward, Long Bien district – said that the situation of people stopping their cars to cool off on Long Bien bridge happens often.
"Last time there were many cases that were sanctioned, but there were also many people from other districts coming, when crossing the bridge, they saw that the bridge was cool, so they stopped to take a breather.
The fact that people stop and park their cars on the bridge has hindered the movement of people on the bridge, causing an accident. Currently, the Long Bien bridge is weak and in the process of being maintained. It is recommended that people do not stop and park on the bridge, "said Captain Son.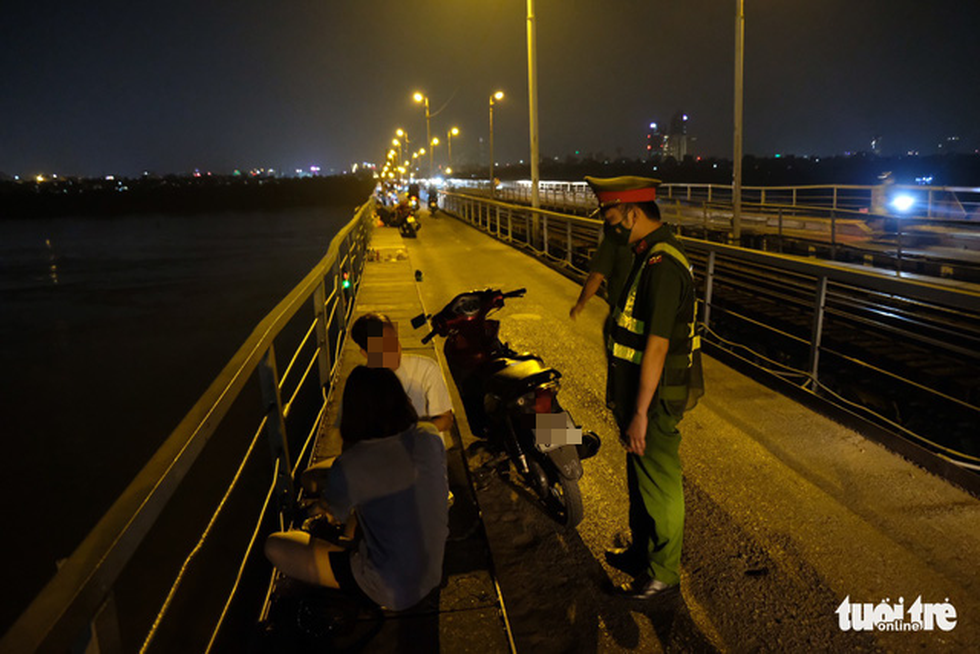 At the time of inspection and handling of violations, Mr. PVT (white shirt), Gia Lam district, Hanoi – said that people come here to sit and walk a lot, so Mr. T invited his friends to come and relax, I don't know if not. You are allowed to stop and sit here. "After today's punishment, I will learn from experience," Tuan said – Photo: NGUYEN BAO
Talking to Tuoi Tre Online, Mr. Nguyen Quoc Vuong – director of Ha Hai Railway Joint Stock Company (the unit managing Long Bien Bridge) – said that in the coming time, the unit will coordinate with the police force to carry out to relieve people from gathering on the bridge, this will be maintained weekly.
Previously, Tuoi Tre Online reported that Long Bien Bridge had deteriorated in many locations and had many incidents in the past. In the process of maintenance and maintenance, to avoid dangers, authorities have attached signs prohibiting walking at both ends of the bridge.
However, on the night of September 18, despite the forbidden sign, hundreds of motorbikes still stopped close to each other, extending for kilometers on Long Bien bridge (towards Tay Ho district). People standing, people sitting, even standing in the middle of the road to take pictures to check-in.
Before that, on 4-5 days, a knitting board at the pedestrian crossing was broken and fell into the river.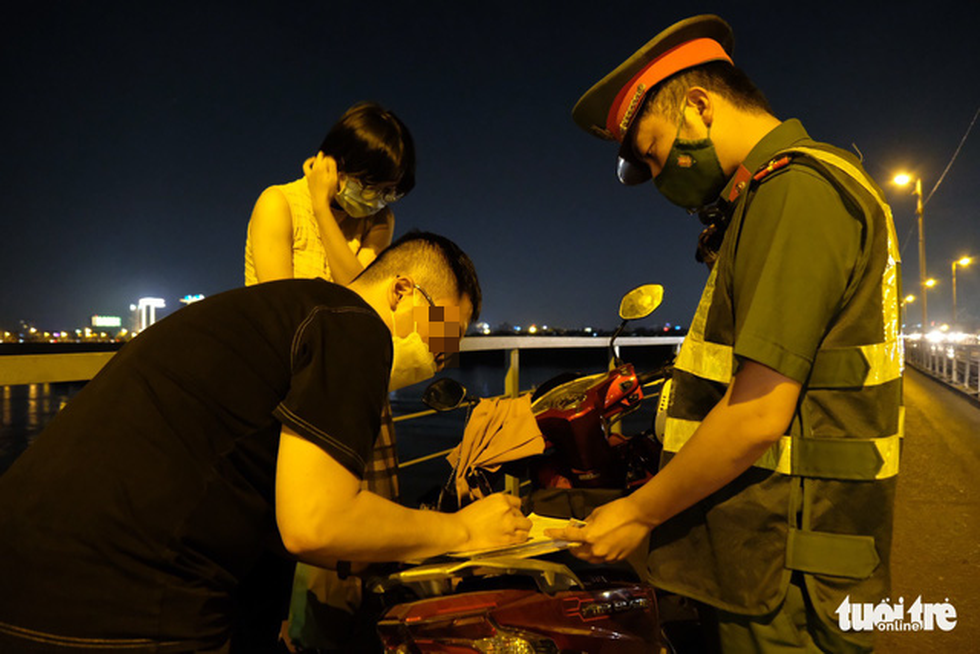 Mr. NHG (Cau Giay district) stopped the car and sat with friends on Long Bien bridge. Mr. G. said that he and his friend had not crossed Long Bien bridge for a long time and did not know that stopping on the bridge was forbidden, because many people stopped to relax, so they also stopped. In the photo, Mr. G. signs a record of motorbike parking violation on Long Bien bridge – Photo: NGUYEN BAO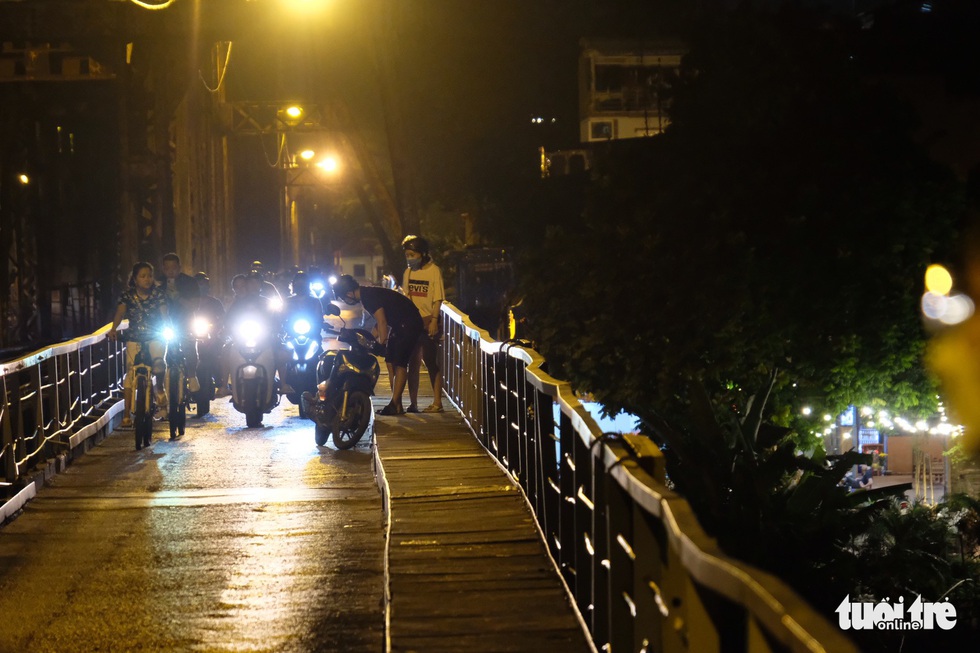 When the functional forces are handling people who violate the regulations of stopping and parking illegally on the bridge, in the distance, there are still young people who carelessly continue to stop their cars, go to the woven sheets to sit and relax – Photo: NGUYEN BAO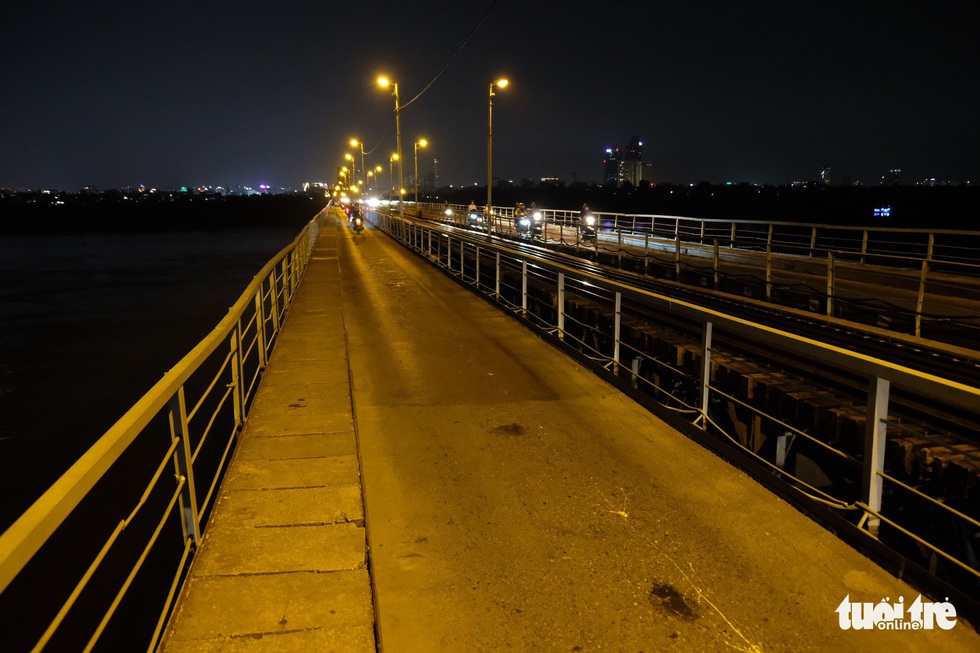 Long Bien Bridge at 22:00, after patrolling and handling violations of illegal parking on the bridge – Photo: NGUYEN BAO