In an interview for the magazine Elle In the October issue, Shakira spoke for the first time about her sudden breakup with 12-year love Gerard Pique.
"I've stayed quiet and tried to work it all out. It's hard to talk about because I'm still going through it. I'm a public figure and this isn't like a normal breakup. It's not just difficult. difficult for me, but so are the children", the singer Hips Don't Lie said.
The singer, born in 1977, confided that she was going through the most difficult and darkest moment of her life and could only turn to music to save herself.
Shakira tried everything to keep her and her children's privacy, but could not hide the current situation, because the two children could still be influenced by the Internet or hear gossip from friends: " I feel like this is a bad dream and I will wake up at some point. But no, everything is true."decade long, had two sons but never got married. Both "go their separate ways" in June. Many information about Pique's affair but insiders did not speak up.
After giving birth to two children, the singer had to sacrifice for Pique because she wanted him to focus on playing football and winning titles, while her music slowed down, only ranked second.
Shakira said what pushed her through the pain was Milan and Sasha, her mission is to be a good example for her children. "I myself have always believed in the value of family, I dreamed of having a happy home forever, but then that desire was broken. It was painful." Shakira said.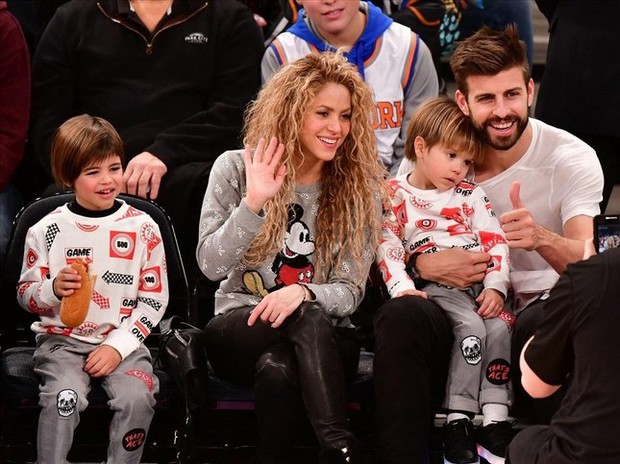 Shakira and Gerard Pique when they were still hot. Photo: AFP
While Shakira is still facing difficulties, midfielder Gerard Pique is drunk in a new love 12 years younger than him. The Barcelona player was caught in love with his new girlfriend Clara Chia Marti in the restaurant that ex-boyfriend Shakira loved in Paris, France on September 20.
Regarding the fact that the old love has a new one, Shakira thinks this is too private to share. What she cares about right now is her small family.
Pique and Shakira were seen going to the lawyer's office to settle disputes after the breakup, especially the custody of two children. Lawyers said that the two sides have not yet reached an agreement. Pique wants Milan and Sasha to stay in Barcelona and Shakira wants them to go to the US.
Pique and Shakira have a 12-year relationship that is admired all over the world. Pique met "Latin music queen" for the first time in 2010, when the two filmed together MV Waka Waka – the theme song of the World Cup. The star couple's love lasted a decade, had two sons but did not lead to marriage. Both of them "went their separate ways" in June. There was a lot of information about Pique having an affair, but insiders did not speak up.