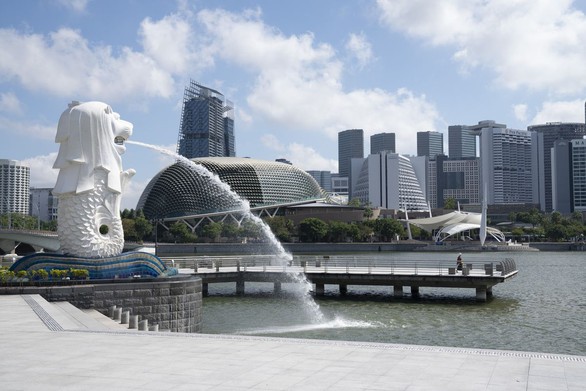 Singapore replaces Hong Kong's position as the Asian financial center – Photo: BLOOMBERG
Singapore rose three places to third place in the twice-yearly Global Financial Centers Index (GFCI), which evaluates 119 cities around the world. In this list, New York and London maintain the first and second positions.
According to Channel News Asia, Hong Kong's adoption of a version of China's strict Zero COVID policy during the COVID-19 pandemic is the reason for weakening the economy of this special city, and exacerbating the situation. brain drain here as other business centers reopen.
Currently, Hong Kong still requires a 3-day quarantine at a hotel for all international visitors to the special zone, while the border with mainland China remains mostly closed.
In contrast, Singapore has considered COVID-19 to be endemic and identified as cohabiting with COVID-19. Singapore is now open without restrictions.
In the coming months, Singapore will host a series of major business and financial conferences. Next week they will hold a race in the framework of the Formula 1 night. About 4 million visitors are expected to visit Singapore this year.
Responding to the GFCI's latest announcement, the Hong Kong government said it chose to focus on the advantages of the special zone without talking about the disease control measures being applied.
"We will continue to listen to opinions and be bold in implementing reforms to strengthen and strengthen Hong Kong's capital markets, as well as our role as an international financial center. ", the special zone government said.
The GFCI, jointly conducted by Z/Yen – a reputable research and consulting firm in the UK – and the China Development Institute in Shenzhen, evaluates 119 financial centers based on more than 66,000 written reviews by 11,038 experts. financial and quantitative databases.
The GFCI has been published twice a year since 2015, and is widely cited as a leading source for ranking financial centers.
The ranking is a compilation of indicators from five key areas: business environment, financial sector development, infrastructure, human capital, reputation and general factors.