Super product of Supachok helps Thailand win
In the semi-finals of the King's Cup 2022, Thailand lost to Malaysia 3-5 in a penalty shootout. While the players all successfully shot, Supachok Sarachat was the only one who missed, causing "War Elephants" to miss the opportunity to win the traditional friendly cup at home.
After this defeat, coach Mano Polking received a lot of criticism. Even many Thai fans asked the German coach to resign even though he had just helped them to the throne in the AFF Cup 2021. In that context, Mano Polking posted a counter-reproach to the fans in a hurry and confidence. will help Thailand on the right track.
In the King's Cup 3rd place match this afternoon, Mano Polking initially proved he was right. Thailand did not have the service of captain Chanathip and changed a total of 8 positions compared to the previous match. However, they still created a good game against strong opponents Trinidad and Tobago and won 2-1 convincingly.
In the 21st minute, the away defender's mistake created conditions for Channarong Promsrikaew to take the ball to score the opening goal. Having the lead, Thailand attacked but could not score any more goals in the first half.
Entering the second half, Trinidad and Tobago gradually regained the game thanks to a better physical foundation. In the 61st minute, from the corner on the left wing, Kareem Moses made an uncomfortable goal, causing Kritsada Kaman to score an own goal, equalizing the score 1-1.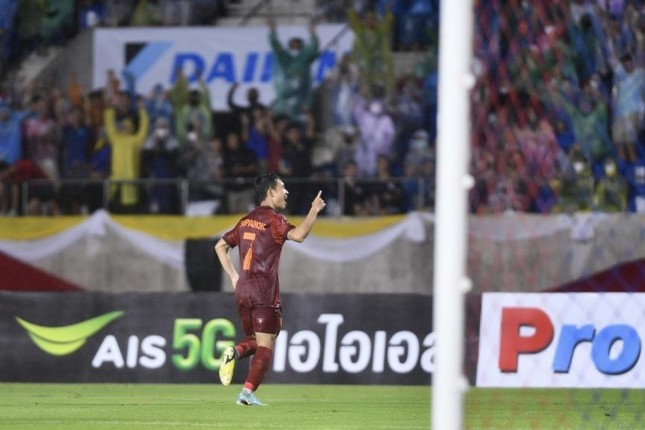 Supachok burst with happiness
However, Thailand did not break the match because of this unexpected goal. After some adjustments by Mano Polking, "War Elephant" accelerated and cornered Trinidad and Tobago. 72 minutes, Supachok received the ball on the left wing. Number 7 turned the ball back up and launched a perfect cut that made the Trinidad and Tobago goalkeepers give up. Supachok almost cried after this goal, because he had relieved the pressure from the loss to Malaysia.
In the last minutes of the match, Trinidad and Tobago flooded to find an equalizer but failed. With this victory, Thailand won the consolation 3rd place at the King's Cup 2022, and at the same time regained the score on the FIFA rankings.