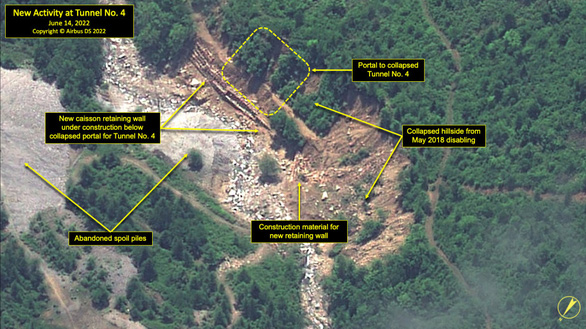 Satellite images show activities at tunnels 3 and 4 at the Punggye-ri nuclear test site in April 2022 – Photo: NBC
South Korea's National Intelligence Service (NIS) said North Korea may conduct its seventh nuclear test between October 16 and November 7, according to Yonhap News Agency on September 28.
According to the bureau, the possibility of North Korea carrying out a seventh nuclear test has increased since the restoration work of the third tunnel in Punggye-ri was completed.
Punggye-ri is North Korea's only nuclear test site, where the country conducted six nuclear tests in 2006, 2009, 2013, 2016, 2017.
In April 2022, the US website specializing in North Korea – 38 North – Citing analysis from private satellite images, Pyongyang is continuing to restore the third tunnel at the nuclear test site in Punggye commune (Kilju district, North Hamgyong province).
The Punggye-ri nuclear test site was destroyed in 2018 before the historic summit between US President Donald Trump and North Korean leader Kim Jong Un in Singapore, and then the second summit. two in Hanoi.
Earlier last month, the Korean Central News Agency (KCNA) reported that the Supreme People's Assembly of North Korea had passed a law stipulating the country's right to use a pre-emptive nuclear strike for self-defence.
The new law allows North Korea to launch a pre-emptive nuclear strike if it detects an imminent attack with weapons of mass destruction or against the country's "strategic objectives".
The move has raised concerns that Pyongyang may be preparing for its seventh and first nuclear test since 2017.
North Korea has conducted 19 missile tests this year with an unprecedented frequency, the most recent being on September 25.
In the past time, the two militaries of Korea and the United States have held joint exercises with high intensity and are expected to continue in the future, so the possibility of Pyongyang carrying out provocative actions in the peninsula area. North Korea increased.