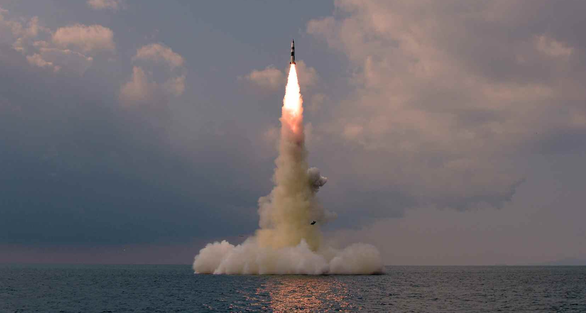 Photo of a North Korean submarine-launched ballistic missile test in 2021 – Photo: YONHAP
On September 24, Yonhap news agency quoted a South Korean military source as saying that the South Korean military had detected missile launch preparations in Sinpo, South Hamgyong province of North Korea this past week.
This finding is similar to a report this week by the 38 North research group in the US based on commercial satellite images.
"We are closely monitoring North Korea's SLBM-related facilities and activities, and are always on a combat readiness posture," a military official said.
Meanwhile, President Yoon Suk Yeol's office announced on the same day that he had been briefed on North Korean signals and activities. According to the agency, President Yoon has ordered the South Korean military to be ready if North Korea "provocative".
As reported by 38 North, satellite images taken last weekend showed six barges and other ships clustered around the submarine launching wharf at South Sinpo Shipyard.
Sinpo has submarine and SLBM manufacturing, development and testing facilities. North Korea fired an SLBM from Sinpo on May 7, a few days before Yoon took office.
US Vice President Harris will visit North Asia next week and meet the leaders of Japan and South Korea, and the US and South Korea are expected to conduct joint military exercises at the end of September 2022. Reuters news agency said a senior US official had warned North Korea could conduct nuclear tests or conduct other provocations while Harris was in the area.
On September 23, the US nuclear-powered aircraft carrier USS Ronald Reagan arrived in the eastern port city of Busan in South Korea to prepare for its first major joint exercise since 2017. The submarine USS Annapolis Nuclear-powered US is also expected to join.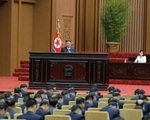 North Korea claims to be a nuclear state