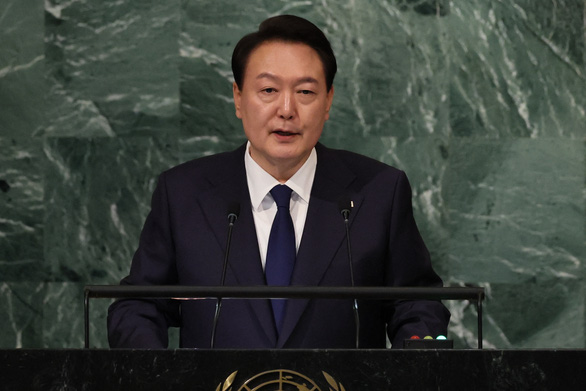 South Korean President Yoon Suk Yeol – Photo: REUTERS
In the video, South Korean President Yoon Suk Yeol appears to be talking about US lawmakers after a brief meeting with US President Joe Biden at the Global Fund Conference in New York.
"How can Mr. Biden not lose face if these k*** k***s don't pass it in Congress?" AFP news agency quoted Mr. Yoon as saying in the video. on its commitment to contribute $6 billion to the Global Fund to Fight AIDS, Tuberculosis and Malaria.
This requires congressional approval.
The footage is going viral in South Korea. There were 5 million views of the video on Youtube in less than a day and the keyword Mr. Yoon is also trending on Twitter.
On September 22, presidential office spokesman Kim Eun Hye said Mr. Yoon "has no reason to talk about America or utter the word 'Biden'".
Speaking at a press conference in New York on September 22, Kim claimed that Yoon did not say "Biden" but a Korean word with a similar pronunciation and that he was referring to South Korean legislators, not America.
According to AFP news agency, ruling party lawmaker Yoon Sang Hyun suggested that the first broadcaster to report on the incident, MBC, should be prosecuted.
"MBC should be responsible for information that has damaged the US-Korea alliance," Yoon Sang Hyun wrote on Facebook.
However, many netizens remain skeptical about the government's response.
The United States is a key security ally of South Korea, with about 27,000 American troops stationed in the country.