Buying a house to rent a homestay becomes a trend as tourism develops. This is considered an investment and profitable business for those with a large amount of capital. Kieu Trinh, 29 years old, bought an apartment with a clear area of ​​​​28m2 – a studio apartment in an urban area in Hanoi, the investor's selling price is 917 million VND and 120 million VND for interior finishing.
Let's meet Kieu Trinh to understand more about the story of buying a house to rent a homestay as well as the notes when investing in this form.
Why did you decide to buy a house to rent out a homestay?
About 2 years after the Covid-19 epidemic, international tourism was affected, I switched to working in the real estate field. I happened to know a previous owner had a loan to buy an apartment in the area I wanted to buy. You borrow 70% of the value of the apartment and when the interest rate support expires from the investor with some difficulties, you can't pay the bank interest, need to pay off the loan, so you have to sell this apartment at a loss. . At that time, I decided to buy to rent a homestay.
Due to Covid-19, I could not invest in any business, save money, banks simultaneously lowered interest rates very low. People mainly invest, compared to those channels, I find that real estate is more stable, less volatile and increases in price over time. I decided to buy this apartment because I see the potential for price increase as well as renting in the future about 1-5 years will be very good.
Currently, people tend to go on weekends or public holidays in the suburban areas of Hanoi rather than go far, as well as foreign experts who come to Vietnam for work often look for apartments. homestay in megacities with full facilities instead of hotels, so I feel it is suitable for investment. Although the apartment is currently being discontinued, I still consider this a potential investment.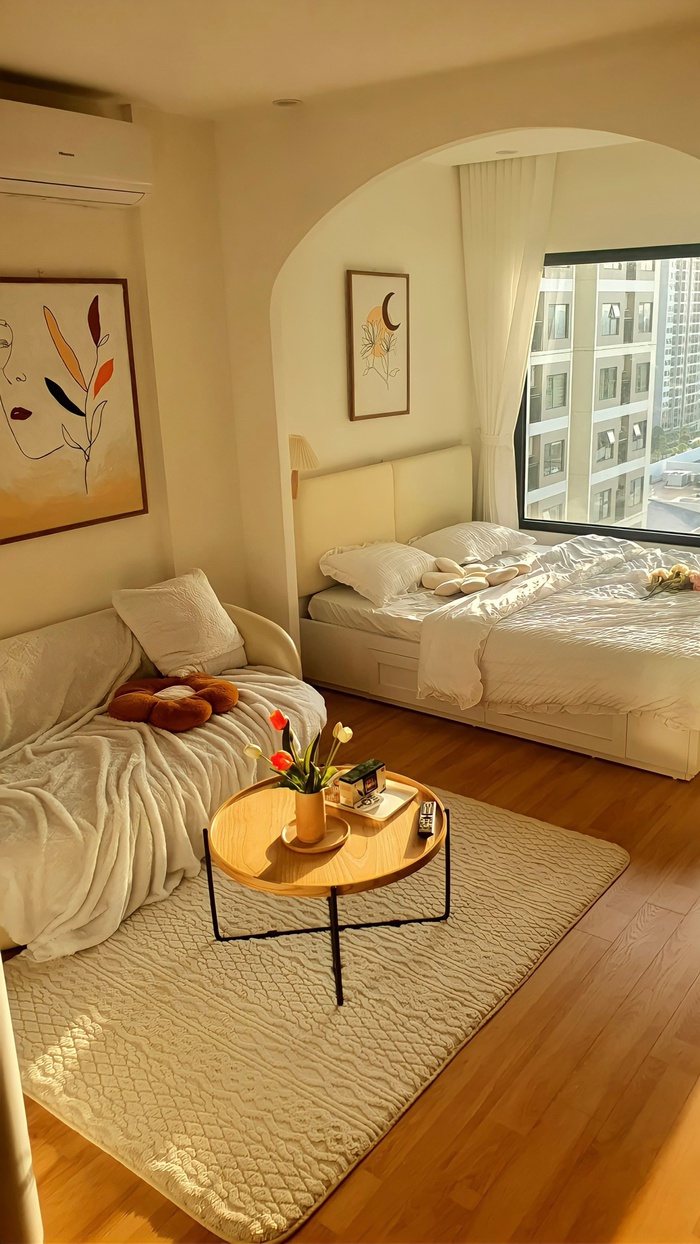 Do you regret buying a house and not renting it out because then the capital will be stuck?
I don't feel sorry for buying this apartment. On weekends, I usually go to rest and relax with my family. When buying the apartment, I also took into account that the case that it could not be rented would be left as a security asset that would increase over time. Currently, apartment prices in the area have also increased more than before.
Right from the beginning of buying the apartment, I did not consider the long-term rental because the rental price is not high. Moreover, the time I bought it was the Covid-19 epidemic, so the number of tourists coming to the urban area for short-term rental was not much. Sometimes there are new guests, cleaning is also difficult, so I decided not to rent anymore. Currently, the number of visitors here is quite a lot and homestay rental is also more than before. I'm thinking about renting again soon.
According to Kieu Trinh's experience, what factors should be taken into account when buying a house for rent?
That is "Location". The interior or design of the apartment can be changed, but the location cannot. Apartments in urban areas with convenient transportation, many utilities, etc. will often have better occupancy rates and apartment rental prices.
From that position, I will also orient who my future apartment tenants will be, from which I can choose Studio, 1-bedroom, or 2-room apartments for investment.
Need to evaluate the rental potential in the area that you plan to invest in now and in the future 1-5 years is good or not. Then consider other factors such as cash flow, operating costs, legal, etc.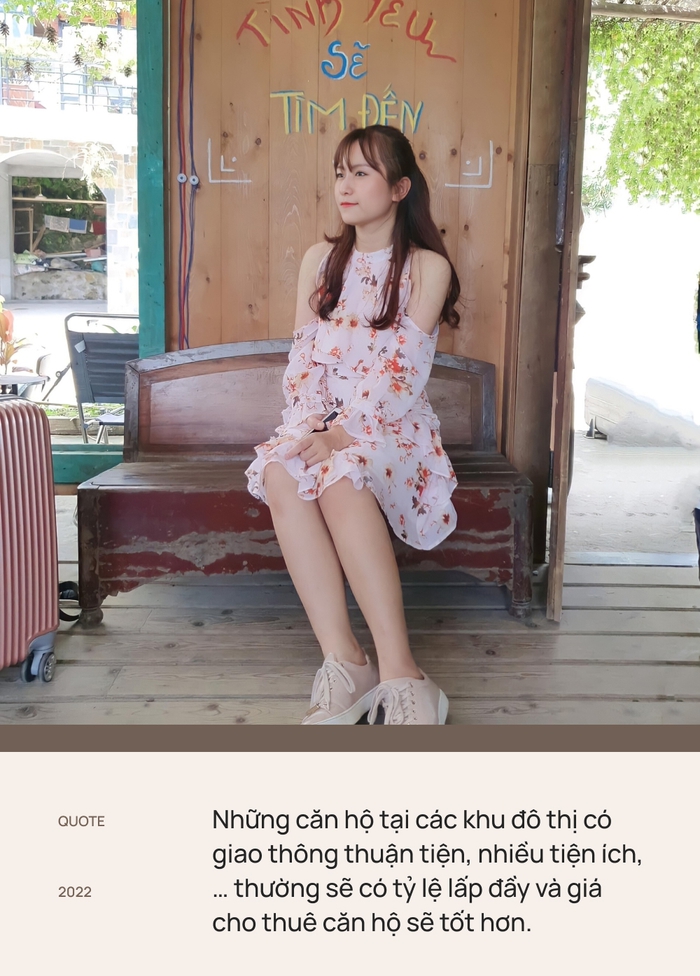 In your opinion, should young people who do not have enough capital take a loan to buy a house or wait until they accumulate enough?
This depends on the needs and financial situation of each person. If you are living in a rented house and your income is over 25 million, you should consider buying a house in installments (instead of paying rent of 6-7 million VND/month), the interest is considered as rent, but you have your own house. , build and edit more correctly.
If the income is low and it is not important to have a nice and comfortable place to live, then you should choose to rent a house for less than 5 million VND/month, the rest will be accumulated so that when you have better financial capacity, you can buy it in installments as an option. 1. Do not borrow too much money to buy a house without financial preparation and good income, because that will become a burden for you.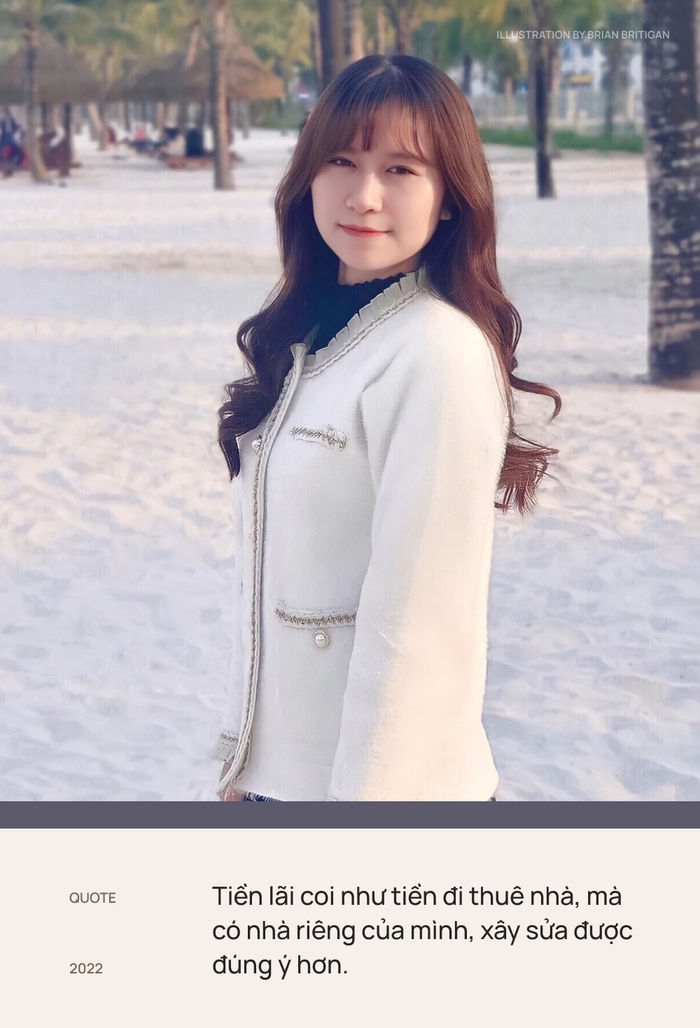 Do you have any advice for young people looking to buy a home?
You carefully consider your life goals and financial flow to decide whether to buy or not. You should also not borrow too much because when the grace period expires, you will have to pay very high interest and principal, which will become a financial burden for you. When you have accumulated about 40-50% of the house value, then buy it. Surely when you buy a house by your own efforts, you will be very happy and have more motivation to strive.
Thank you Kieu Trinh for sharing!
Photo: NVCC