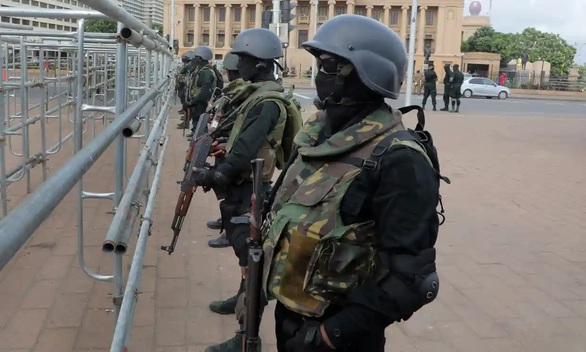 Sri Lankan armed forces stand guard in the capital Colombo – Photo: GETTY IMAGES
Earlier, on July 17, President Ranil Wickremesinghe (then acting president) declared a nationwide state of emergency to empower the military to arrest people and limit public gatherings.
AFP news agency quoted a Sri Lankan lawmaker as saying the extension of the state of emergency would take effect within a month.
Separately, Sri Lankan police said they had arrested two activists, Mr. Kusal Sandaruwan and Mr. Weranga Pushpika, on charges of illegal assembly.
Police also released photos of 14 wanted suspects in connection with the burning of Wickremesinghe's residence on the same day that protesters stormed the presidential office and the presidential palace, on July 9.
The arrests of the two activists came a day after student leader Dhaniz Ali was arrested as he was about to board a flight to Dubai. Police said Ali was arrested in connection with a lawsuit, but did not give details.
Former President Gotabaya Rajapaksa left Sri Lanka on an army plane on July 13 after protesters stormed the president's office and residence demanding his resignation. The people of Sri Lanka have blamed Mr. Rajapaksa for the current crisis.
Mr. Rajapaksa then went to Singapore and sent his resignation back home. Wickremesinghe's successor has declared a state of emergency and pledged to take a hard line against "troublemakers".