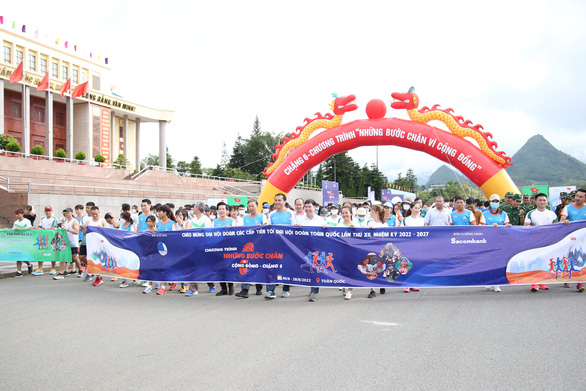 Starting stage 6 of the program "Steps for the community" in Lai Chau – Photo: HAI DANG
On 6-8 in Lai Chau, the Central Vietnam Youth Union coordinated with the organizers to launch the sixth stage of the program "Steps for the community".
The program was launched simultaneously in 63 provinces and cities, which is a practical and meaningful action of members and young people across the country joining hands to take care of the life and spirit of people in ethnic minority areas. , especially the ethnic minorities in Vietnam.
At the kick-off ceremony, Mr. Nguyen Hai Minh, Standing Vice President of the Central Committee of the Vietnam Youth Union, called on union members, members, youth and people to register for the program "Steps of the Youth Union". for the community", expressing love for the country by volunteering steps for the community.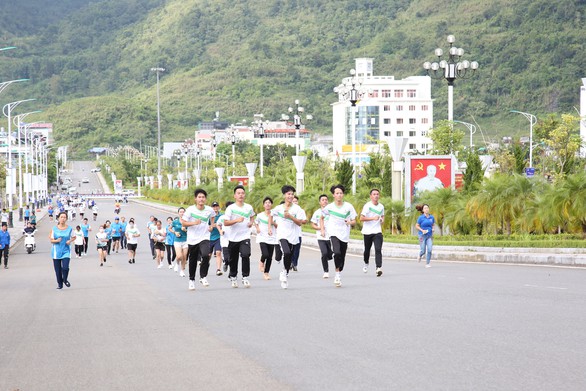 Young people responded to jogging for the community on the streets of Lai Chau – Photo: HAI DANG
Because every step we take, not only helps improve health, but also accompanies the Youth Union and Association in the journey of taking care of spiritual life, preserving and promoting community traditions for ethnic minorities. a small minority of people in the great family of Vietnamese ethnic groups" – Mr. Minh said.
In 2022, the program will be implemented with 5 stages from stage 4 to stage 8. In which, stage 6 will be carried out from now until the end of August 28 with the goal of mobilizing at least 1 million km of walking and jogging, equivalent to an amount of VND 1 billion supported by sponsors to build houses. Community culture for the Mang ethnic group in Nam Pi commune, Nam Nhon district, Lai Chau province.
On this occasion, the organizers also presented 20 gifts to 20 village elders, village chiefs, reputable people and policy households who are ethnic minorities with difficult circumstances (each 1 million VND in cash and 1 million VND each). 1 security gift bag).
At the same time, 20 gifts were given to 20 ethnic minority students with difficult circumstances to excel in their studies (1 million VND each in cash and 1 gift bag); awarded the symbolic signboard of 3 works "Beautiful school for you" in Muong Te district and Sin Ho district, Lai Chau province; inaugurated 2 projects "Happy House" for 2 orphaned students in Lai Chau province.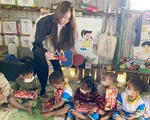 Contribute little money to the poor people