On September 28, the Electricity of Vietnam (EVN) gave quick information on the impact of typhoon No. 4 (Hurricane Noru) on the operation of power source and grid, updated to 7 o'clock on the same day.
According to EVN, the system of dams and hydropower reservoirs is still operating normally. Compared with the time before the storm made landfall, the upstream water level of most hydropower reservoirs has not changed much.
Particularly, the water level of hydropower reservoirs in Vu Gia – Thu Bon river basin (Quang Nam province) has increased sharply: A Vuong lake increased by 9.7 m, Song Bung 2 lake increased 9.3 m, Song Tranh 2 lake increased by 5. ,3 m.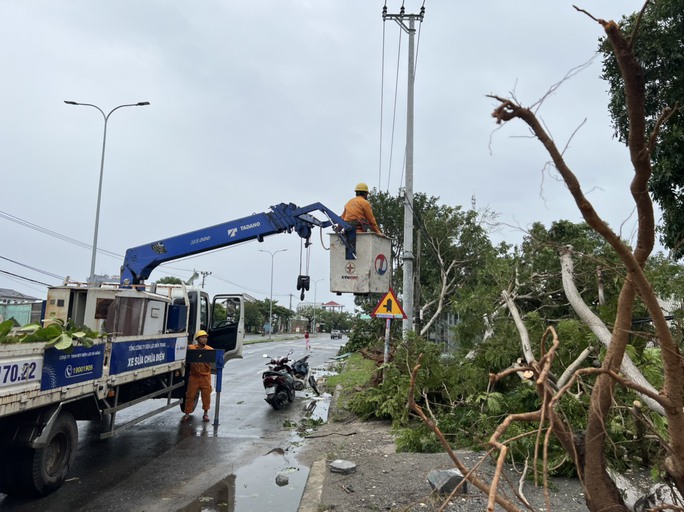 Electrical workers fix problems after storm No. 4
The remaining flood prevention capacity at hydropower reservoirs in the affected area is nearly 1.8 billion m3. Reservoirs are regulating spillovers: Ba Ha River, Hinh River, Buon Kuop, Srepok 3, An Khe, Ka Nak, Se San 4, A Luoi. "The rain situation after the storm is forecasted to be complicated and expand, so the water flow and the water level of the lakes will continue to be closely monitored" – a representative of EVN said.
Regarding the operation of the high-voltage grid, EVN said that the 500 kV power grid has 5 line failures on some sections in the area from Ha Tinh to Pleiku (Gia Lai province), of which have been restored and put into operation. operate 3 lines again. The 500kV power grid still retains the North-South link during the storm through the 500kV line circuit 3.
220 kV power grid has 7 line faults on some sections in the area from Thua Thien Hue province to Quang Nam province, 5 lines have been restored to operation. 110 kV power grid has 16 line breakdowns, 10 110 kV substations, and 2 110 kV transmission lines have been restored to operation.
According to EVN, typhoon No. 4 and its circulation have affected power supply to many areas in provinces and cities: Quang Binh, Quang Tri, Thua Thien Hue, Da Nang, Quang Nam, Quang Ngai and Binh Dinh. , Phu Yen, Kon Tum. The total capacity of power supply interruption is 673 MW, accounting for nearly 23% of the total electricity consumption capacity of the Central Power Corporation.
Currently, power units in the Central region are focusing their efforts on overcoming power problems caused by storms to restore power supply as quickly as possible to customers. However, for some areas that may be flooded by heavy rain after a storm, it is imperative to proactively cut off power to ensure safety.