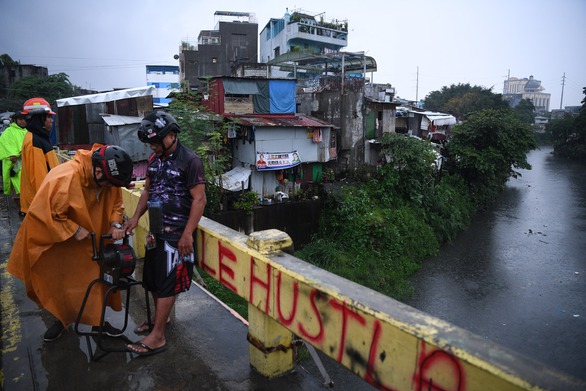 Officials use sirens to warn residents near a creek in Quezon City, on the outskirts of Manila on September 25.
According to AFP news agency, the Philippine weather agency said the storm had maximum winds of 195km/h as it headed towards the country.
Observers warned that the storm's strength had "intensified" like never before.
Noru is the strongest typhoon to make landfall in the Philippines this year. This super storm made landfall in the Burdeos area on the Polillo Islands, part of Quezon province, Philippines at 5:30 p.m. on September 25 local time, or 4:30 p.m. on the same day in Vietnam time.
"We ask residents living in hazardous areas to comply with the call to evacuate whenever necessary," Philippine National Police Chief Rodolfo Azurin said.
The Philippines is regularly ravaged by typhoons. Scientists warn this weather phenomenon is getting stronger as the world heats up due to climate change.
Videos posted on social media showed trees being knocked down by strong winds in Infanta and on the islands of Polillo.
The weather agency said the storm's winds increased by 90km/h in just 24 hours.
The storm made landfall about 100km northeast of the capital Manila. Rescuers were bracing for the possibility of strong winds and heavy rain hitting the Philippine capital, home to more than 13 million people.
Officials said mandatory evacuations had begun in some "high-risk" areas of Manila.