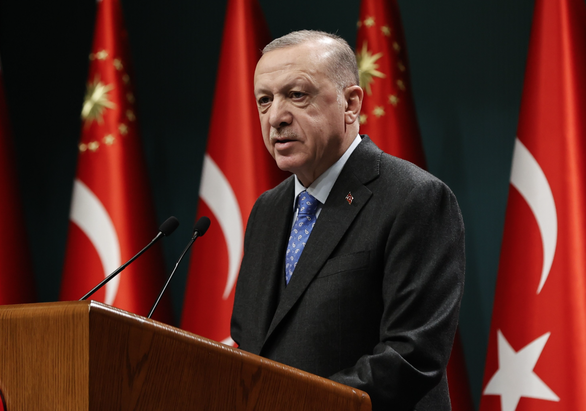 Turkish President Recep Tayyip Erdogan – Photo: AA PHOTO
According to Reuters news agency, speaking before the ruling Justice and Development Party (APK) in parliament, Erdogan also said that the Swedish and Finnish delegations should not go to Turkey to persuade Ankara.
US President Joe Biden and top officials in his administration meanwhile have both said they believe Ankara's opposition will not be an obstacle to joining the North Atlantic Treaty Organization. NATO) of these two Nordic countries.
Finland and Sweden officially applied to join NATO on May 18.
According to Reuters news agency, Ankara accuses Sweden and Finland of harboring Kurdish extremist groups, which Turkey considers a terrorist group.
"We have a sensitive issue of protecting our borders from attacks by terrorist organizations," Erdogan said.
Erdogan said that NATO allies have never supported Turkey in its fight against Kurdish militant groups. "The expansion of NATO makes sense for us only when our sensitive issue is respected," he said.
According to the Turkish Presidential Office, Ibrahim Kalin – President Erdogan's foreign policy adviser – spoke by phone with his Swedish and Finnish counterparts. The call also included German, British and American officials to discuss NATO expansion policy.
During the phone call, the Turkish side stressed that if Ankara's expectations are not met, "this process will not be able to progress".
Meanwhile, US President Joe Biden on May 18 expressed optimism about the prospects of success in the efforts of Finland and Sweden to join NATO, despite opposing statements from Turkey.
On the same day, US national security adviser Jake Sulliavan said that the top group of security officials in the US administration were "unanimous" in support of Finland and Sweden joining NATO, assessing these two Nordic countries as powerful military partners.
According to Sullivan, the US side is communicating with Turkish officials in an effort to address Ankara's security concerns related to Sweden and Finland's accession to NATO.
In a related development, Turkish Foreign Minister Mevlut Cavusoglu said on the same day that he had "a good meeting" with his US counterpart Antony Blinken in New York amid reports of Ankara blocking Helsinki and Stockholm joined the military alliance led by Washington.