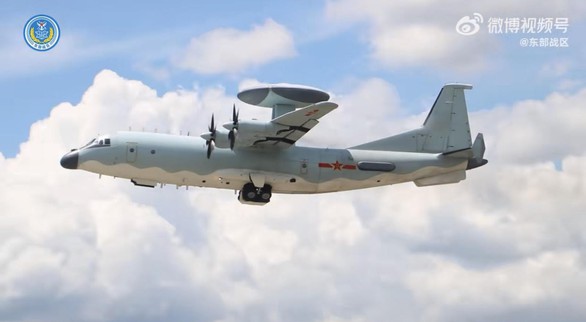 Photo taken from the video of the Eastern Theater Command of the Chinese army announced on August 6 about the military exercise around the island of Taiwan – Screenshot/Eastern War Zone
According to Reuters news agency, Taiwan's Defense Agency said in Of these Chinese planes, 14 have crossed the unofficial demarcation line over the Taiwan Strait.
The Taiwan Self-Defense Agency also detected 14 Chinese military vessels operating around the Taiwan Strait.
The agency said China was "simulating an attack on the main island of Taiwan".
On August 5, Taiwanese forces fired flares into the night to scare away seven drones flying over the Kinmen Islands and drive away unidentified aircraft flying over Taiwan's remote Matsu Islands.

Meanwhile, on Weibo, the Chinese military's Eastern Theater Command: "On August 6, the Eastern Theater Command continued to conduct joint exercises in the waters and airspace north, southwest and east of Taiwan island as planned. The exercise focuses on testing the system's land and sea strike capabilities."
Below the post of the Eastern War Zone, Chinese netizens commented: "Recommend the exercise for half a month", "Do not stop", "We are not in a hurry, just fight slowly"…

On August 6, US Secretary of State Antony Blinken said that Beijing was moving from using peaceful solutions to using force. However, on August 5, Chinese Foreign Ministry spokeswoman Hua Chunying said: "The context and events leading to the tension in the Taiwan Strait are very clear. The US is the unprovoked provocateur and the party that created the crisis".