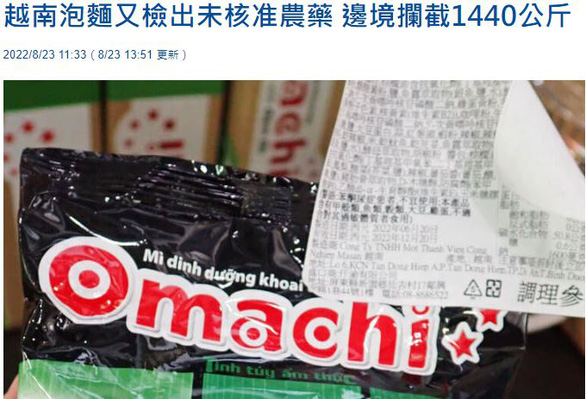 CNA News (Taiwan) news about the batch of Omachi instant noodles containing banned substance ethylene oxide – Screenshot
On August 23, CNA news agency (Taiwan) reported that the Food and Drug Administration of the Taiwan Health and Welfare Administration discovered Omachi instant noodles contain banned substance ethylene oxide from Vietnam. Specifically, The batch of Omachi shrimp-flavored instant noodles imported from Vietnam with the plant protection agent ethylene oxide has not been licensed for use in this territory.
According to the latest list of border inspection violations published by the Food and Drug Administration on August 23, a total of 19 foods were returned or destroyed.
In particular, with the batch of spicy shrimp-flavored instant noodles imported from Vietnam by Qianyu (Thien Du) Co., Ltd., 0.195 mg/kg of unlicensed ethylene oxide was detected in the seasoning package. The total volume of Omachi instant noodles with banned ethylene oxide is 1,440kg returned and destroyed (equivalent to 600 boxes of 30 packs of noodles, 80 grams each).
Mr. Tran Khanh Du, head of the Northern Regional Management Center of the Food and Drug Administration mentioned above, said that this is the first time Qianyu enterprises have violated regulations. However, he said previous violations related to instant noodles imported from Indonesia were more serious.
Taiwan's Food and Drug Administration further informed that many agricultural products imported from mainland China, Japan, Canada, Chile and other countries were found to have pesticide residues. All of these items are returned for destruction.
In May, CNA news agency also reported a batch of instant noodles weighing 1,400kg imported from Korea was blocked, after being found to contain substances ethylene oxide. Several batches of instant noodles from Indonesia, the Philippines and Japan were also blocked for containing unsafe substances.
According to CNA, ethylene oxide is currently banned for use in food in Taiwan and many other economies, as it is classified as a class one carcinogen. Taiwan's Food and Drug Administration says that long-term exposure to the substance can increase the risk of cancer and cause central or peripheral neuropathy.
Regarding the destroyed Omachi brand instant noodles in Taiwan, a representative of Masan Consumer Corporation – the manufacturer of the above noodle brand – said that the business has just received this information and is working on it. perform the necessary verification steps before an official and complete response is available to the press.
Initially, Masan Consumer did not sell or export Omachi noodle products to importer Qianyu Co., Ltd, based in Taiwan. The Vietnamese manufacturer also affirmed that Masan Consumer's exported products fully meet the quality standards of the host countries.
Like Youth Online reported in July 2022, Assoc. Prof. Dr. Nguyen Duy Thinh (former lecturer at Institute of Food and Biotechnology, Hanoi University of Science and Technology) said that ethylene oxide (EO) is a non-food substance. This is not an additive. Manufacturers often use EO in product sterilization.
EO has a very good sterilization effect, usually to kill mold-causing bacteria and thoroughly disinfect medical instruments. However, during the sterilization process, some EO may remain.
According to Mr. Thinh, EO is toxic and affects health, but currently, scientists have not studied how much EO content affects health. But according to medical experts, if EO gradually accumulates in the human body, depending on each condition (old people, young people, women…) will affect the liver, kidneys … (DUONG LUONG – N.AN)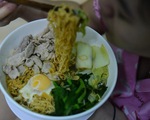 It is not clear when the regulation of EO substances will be available