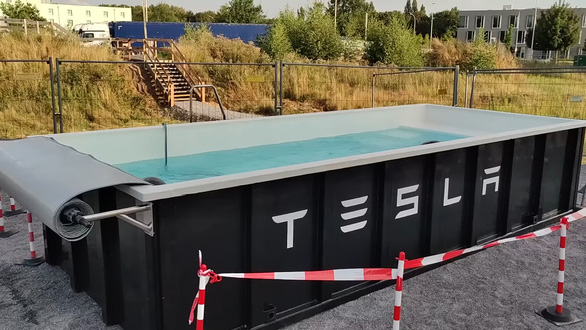 Tesla's new invention at the Supercharger charging station located in Hilden, Germany – Photo cut from video, source Tesla Welt Podcast
The US brand's Tesla Supercharger charging station in Hilden, Germany has suddenly become famous for the appearance of a new invention. During the period when the heat in Europe was at its peak, at this charging station appeared a free homemade "swimming pool" for those waiting to charge the car to cool off.
According to information collected by the Tesla Welt Podcast YouTube channel, this homemade swimming pool uses a large recycled trash can (or to be precise, cut off the top half) to hold the water.
In addition, the water in the tank is not completely natural but has been warmed through energy collected from solar fuel cells installed at the charging station.
During the period of June and July, the peak heat wave in Europe caused mass forest fires, many areas had to be evacuated and many deaths due to extreme heat. Many countries in Europe have witnessed a new record high temperature, the highest of which was 47 degrees Celsius measured in Portugal on July 14.
Charging and using the car at the same time (especially with the air conditioning system running at full capacity because of the terrible outside temperature) has the potential to negatively affect battery life even if the user chooses to charge quickly (maybe takes 15 – 30 minutes to recover to 80% of the battery capacity).
The invention of the aforementioned charging station may not be used by many people because of the accompanying inadequacies, but it is also a factor that shows that the company cares about users.