On September 12, the Criminal Police Department (PC02) of the Ho Chi Minh City Police Department coordinated with the District 12 Police to take the testimony of a man who used a homemade gun to rob money at a convenience store in Trung My Tay ward, district 12, TP. Ho Chi Minh City.
According to PC02, the suspect named Bui Duc Thang (25 years old, from Thanh Hoa), currently lives in Dong Nai.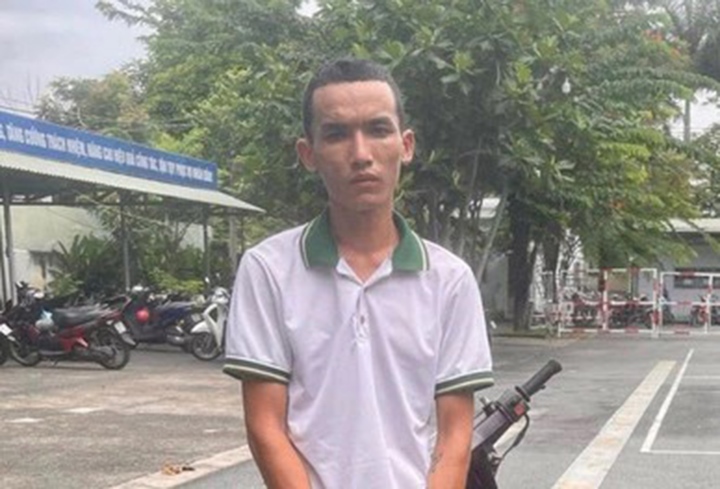 Suspect Thang at the police station. (Photo: provided by the police)
At the police station, Thang stated that because he did not have a job and lack of money to spend, he intended to rob the property. To carry out the above behavior, Thang ordered a homemade gun.
On the morning of September 11, Thang rode his motorbike to a convenience store in Trung My Tay ward, District 12 and walked in with a gun to threaten employees to get money. Terrified, the male employee opened the cabinet and gave VND 3.2 million to Thang.
After getting the money, Thang drove the car towards Dong Nai. Receiving information, District 12 police quickly showed up to take witness statements, cooperate with PC02 to examine the scene, and organize the pursuit of the subject. Authorities seized a metal pellet suspected to be a lead bullet.
A witness recounted that at that time, there was only one male employee in the convenience store, some employees of PL coffee and these two sisters were customers who were shopping.
The male subject was wearing a black suit, helmet, and mask from outside. As soon as he pushed the door in, this guy immediately threatened to ask the male employee to give money.
By professional measures, at dawn on September 12, Ho Chi Minh City Police coordinated with Dong Nai Provincial Police to arrest Thang and seize related exhibits.