The final of Road to Olympia 2022 begins at 8:30 a.m. on October 2. Along with Nguyen Vu are three other climbers: Vu Bui Dinh Tung (Tran Phu High School for the Gifted, Hai Phong), Bui Anh Duc (Son La High School for the Gifted), Vu Nguyen Son, and Hanoi – Amsterdam High School for the Gifted.
To have a glorious laurel wreath, Thai Binh male student excelled in taking the lead in the competitions. In the Warm-up section, the male student got 70 points. In the Obstacle section, although he couldn't answer the search keyword, Nguyen Vu still took the lead with 105 points.
Excellent performance continued to show in the next contest – Acceleration. Continuously answering correctly and quickly, Nguyen Vu leads with 175 points.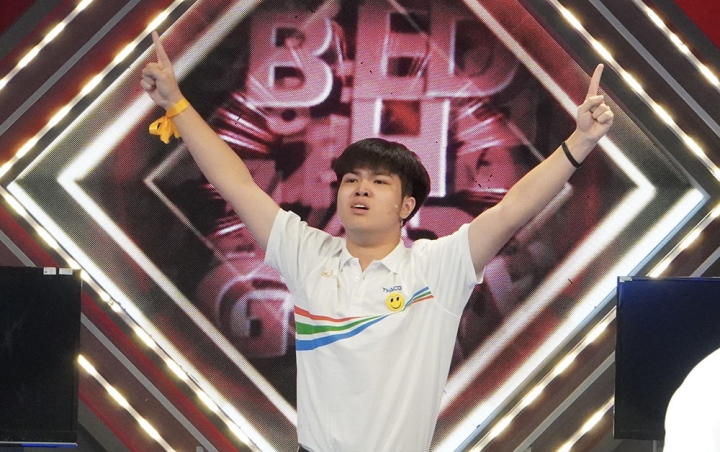 The moment Nguyen Vu correctly answered the last question.
At the finish line, Nguyen Vu chose a package of 3 sentences of 20 – 20 – 20 points. The first question a male student of Thai Binh origin answered correctly. In the second question, Nguyen Vu used the star of hope but did not answer correctly. To the last question, candidates continue to give incorrect answers. At the end of the round, the male student got 175 points.
Second place is Vu Nguyen Son with 155 points and a prize of 100 million VND. And Vu Bui Dinh Tung scored and Bui Anh Duc with 75 points got 50 million dong, and received a certificate of merit from the Minister of Education and Training.
Dang Le Nguyen Vu is the first student in Thai Binh to become the Olympia champion in Thai Binh after 21 years. At the age of 6, Nguyen Vu first watched Olympia with his family – the 11th year final. The boy born in 2005 "sees that his siblings are very cool, and everyone claps again" so he was excited. But after that, Vu was so absorbed and busy with various exams and interests that he no longer paid much attention to the program.
By the end of his middle school years, Vu repeatedly failed many exams: he did not win the prize for excellent student, did not pass the special school.. "I was sad for a long time and spent a long time depressed, doubting myself", Vu recalled. At that time, the 20th year Olympia final took place.
Watching the program, Vu remembered that he used to love Olympia and wanted to fulfill his old dream. For me, this is also a way to assert myself. When sharing the decision with friends, some doubted Vu, some even reminded "don't be vain". The male student was heartbroken but more determined.
Vu actively participates in groups and student communities that have and want to attend Olympia on the Internet. I signed up for practice matches and developed self-study tactics. Thai Binh boy cultivates basic and advanced knowledge through textbooks and prioritizes this section, then accumulates social understanding through news on the radio.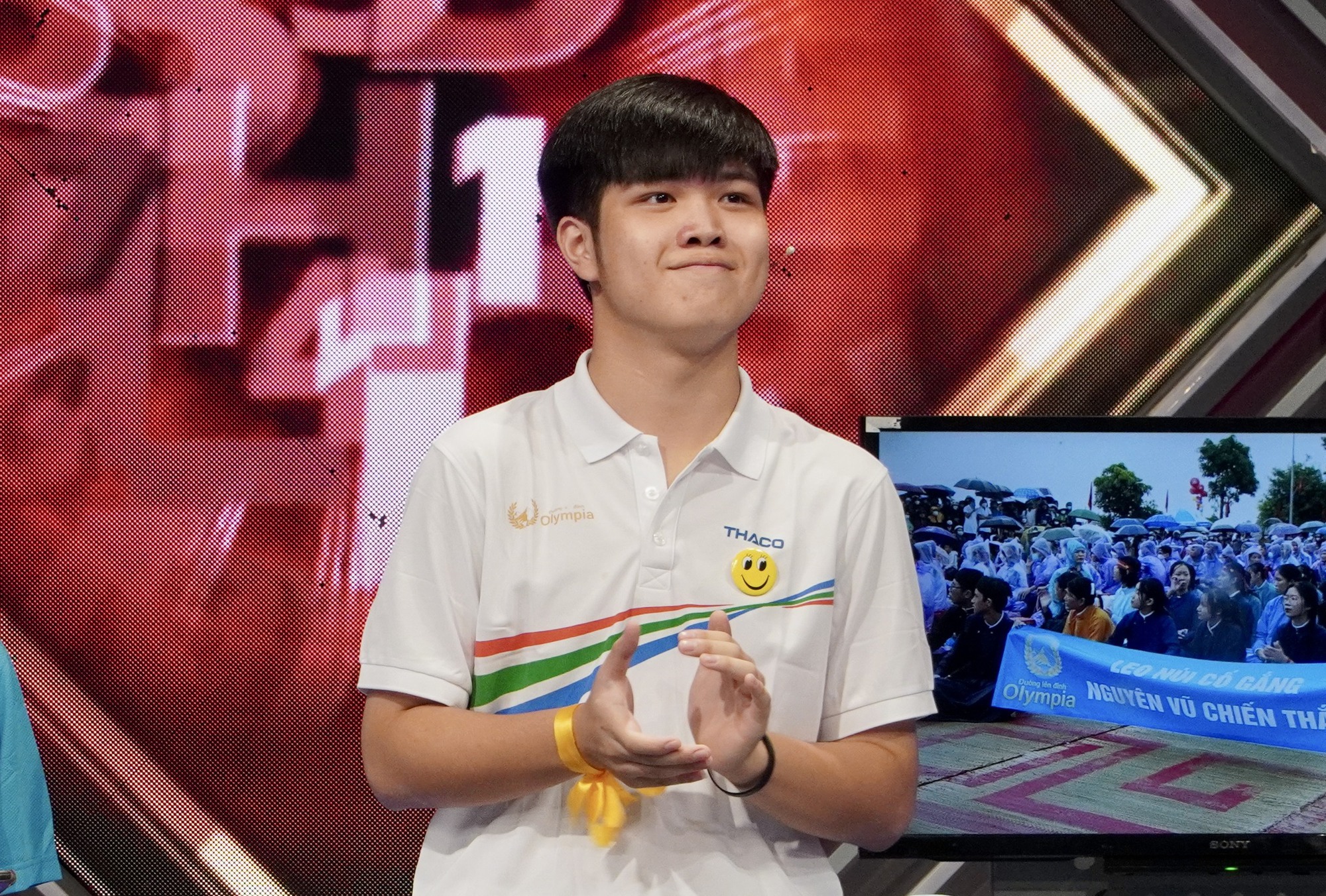 The Road to Olympia registration application requires that each school refer only one student. Candidates must be good students in grade 10 and 1st semester of grade 11, good conduct every term. In the registration form, Vu shared both his failures and worries that his profile was "not as interesting as many other friends". However, at the end of September, the male student received an invitation to attend and record the first batch. "I shouted with joy, couldn't be happier. I was surprised to be called so early", male student expressed.
In the first match of Olympia in the 22nd year, Nguyen Vu won 250 points. Because he had been practicing for many months, the male student felt that he could pass the weekly exam, so he was "not too happy". While Vu received the victory quite calmly, his parents were very surprised.
After the monthly contest, Vu had about a month for the quarterly exam, so he rushed to practice. I watch Olympia matches and read more books. In the evening, I also divided my study time, giving three quarters to Olympia because of the important nature of the competition. As a result, Nguyen Vu won 300 points, winning the gap between the friends who also played and participated in the final of the year.
After three rounds of competition, Vu was commented that "the more you fight, the better". Viewers are impressed with the confident demeanor and decisive ability of the male student at Bac Duyen Ha School. The male student assessed that speed is his advantage because he thinks quite quickly.
Among the contestants who participated in the Oympia, Nguyen Vu's idols are Hoang Cuong (18th year Olympia champion), Quoc Anh (20th year runner-up) and Hoang Khanh (21st year champion). As commented by many people, Vu also considers himself to have a similar appearance to Hai An (runner-up in year 21). I was also impressed with Hai An's 150-point warm-up record, so I learned from his senior's playing style.
Not being a student at a specialized school, Thai Binh male students do not think this is a disadvantage. On the contrary, I think I have a certain advantage because the study time is spread across different subjects and fields. Nguyen Vu's strengths are Math and English, he is also considering pursuing block A00 (Math, Physics, Chemistry) or A01 (Math, Physics, English).
Ms. Nguyen Thi Hai Yen, Ly teacher and homeroom teacher of Nguyen Vu, evaluates him as a comprehensive student. As class president, Vu has leadership qualities and always presides over class events. In addition, I am smart, agile and always proactive in personal planning.
Ms. Yen said that Vu has an impressive ability to memorize and absorb. In just about an hour, I can learn a half-term amount of theoretical knowledge of Physics. When listening to students share about the decision to participate in the Olympia, Ms. Yen believes "Vu will have the prize". "I have never been disappointed in Vu. Before the final match, the school and I will support him in his review", Yen said.