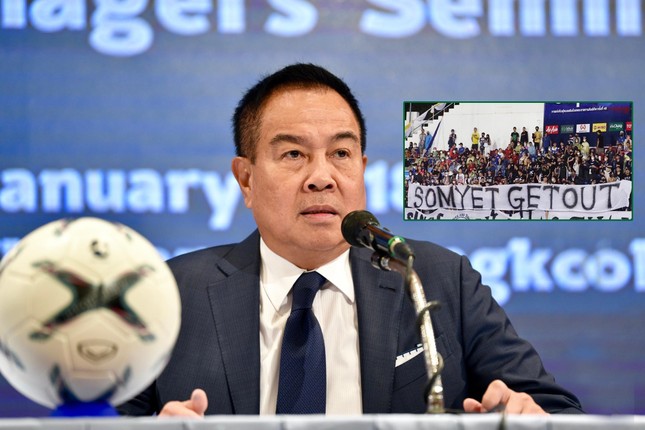 Fans spread slogans demanding the FAT president to leave his seat
A large banner with the words "Somyet Getout" appeared on the stands of Chiang Mai Stadium, besides dozens of other small posters, all as if to convey the message of wanting the president of the Thai Football Federation to leave his chair. .
The reason is because the NHM is not satisfied with the recent performance of the Thai team, when Mano Polking's team lost to Bahrain, Uzbekistan, Malaysia… In these matches, Thailand showed a lack of cohesion in the gameplay, there was no match. contours in ball deployments.
The decline of the Thai national team from the beginning of the year until now is only a small part of the anger of the football fans in this country. Because at youth tournaments like U16, U19, U23, Thailand also received bad results. At the Southeast Asian U16 tournament, even Thailand fell to Laos.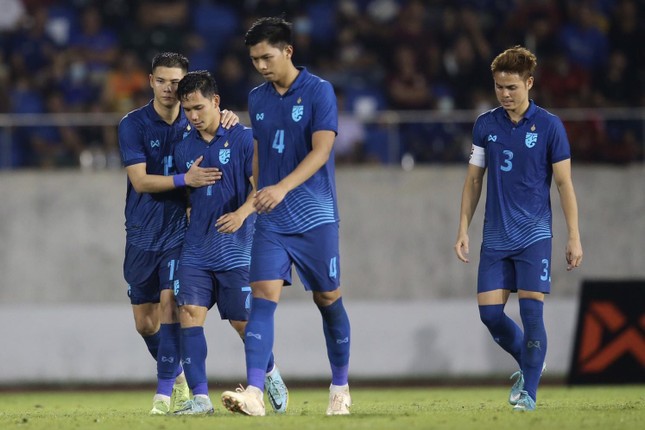 Thailand can't be satisfied with only 3rd place at King's Cup
In the SEA U19 tournament, they lost to Vietnam and finished 4th overall, while in the U23 Asian finals they were eliminated from the group stage, also by Vietnam. All these failures put pressure on Somyot Poompanmoung. The FAT president is said to have been irresponsible, putting the responsibility of managing the team on Madam Pang, who is only the director of the Thai team.
Not to mention Mr. Somyot was also criticized after cutting off the position of sporting director Wittaya Laohakul, who supported the team very well during the time when coach Kiatisuk was successful with Thai football (2014-2017). Mr. Somyot's decision not to continue sticking with "Zico Thai" was also strongly opposed by the home fans because since Kiatisuk left the coach, the Thai team has weakened a lot.
Sheet Thairath said that this is still the "worst mistake" of Somyot as the head of FAT. "The head of Thai football doesn't seem to care. And no one dares to go out for an interview of any kind whenever the results of the home team do not meet the target," Thairath further emphasis.