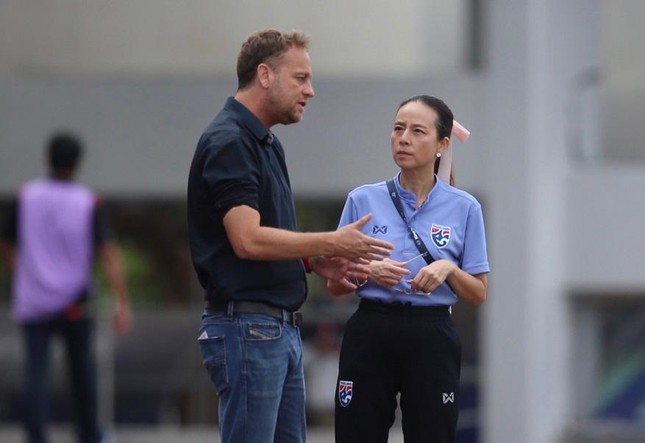 Polking is still trusted by the Thai Football Federation
Yesterday, the Thai team defeated Trinidad and Tobago 2-1 in the third place match of the King's Cup 2022 thanks to Supachok's beautiful goal. This victory helped coach Alexandre Polking receive positive reactions from fans, just a few days after being severely criticized for losing to Malaysia.
Despite the pressure to win against Trinidad and Tobago, the German coach decided to rotate the squad and give a chance to a series of young talents. Compared to the loss to Malaysia, he changed to 8 positions in the starting lineup of Thailand.
Because of this, Siam Sports thanked Coach Polking. In a post-match commentary, Thailand's leading sports newspaper wrote: "Thank you Polking for keeping your promise. Before the tournament, the Thai coach announced that he would give opportunities to young talents as well as players with little international experience.
"Channarong Phomsrikao, Chatmongkol Ruangthanaroj and Teerasak Phaiphimai are three names who have never played for Thailand. In addition, Kamphon Pathomakornkul, Kittipong Phuthachuek, Supanan Burirat, Chalermsak Akkee, Phicha Utra and even Suphanat Mueanta were very inexperienced. All have been able to play in the King's Cup 2022.
"Especially, the victories over Trinidad and Tobago marked new factors. Thank you Polking for keeping your promise. Despite only finishing third, this tournament has helped the Thai team discover problems that need to be fixed, as well as identify players who can become the future of the team.