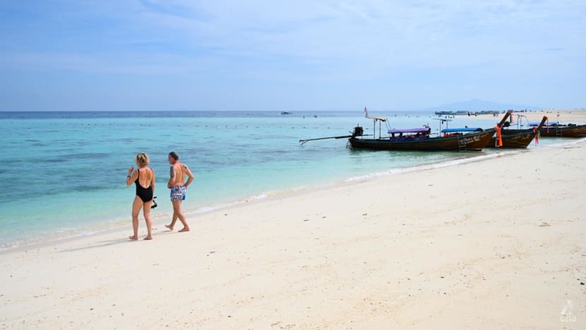 Tourists walk on the beach on Koh Pai island in Krabi, Thailand – Photo: CNA
According to Reuters news agency, Thai Tourism Minister Pipat Ratchakitprakan said the "Thai Pass" system (visitors must obtain from Thai authorities before entering) will be suspended from July 1.
The "Thailand Pass" is an online platform on which tourists are required to submit documents and information before entering the country.
From July 1, all visitors will no longer be required to buy travel insurance to enter the country.
However, travelers are still required to present proof of vaccinations or a negative COVID-19 test result. Such evidence will be checked by airline staff prior to departure.
With Thailand approaching the stage of treating COVID-19 as an endemic disease, the Thai Government's Center for Handling the COVID-19 Situation (CCSA) said it has decided to drop many of the restrictive measures already in place. previously applied.
On June 17, the CCSA said that wearing masks will become a voluntary measure from next month. Although it is no longer mandatory to wear masks in public, they advise people to wear masks if they are in crowded places or if they are unwell.
Thailand is one of the most popular tourist destinations in the world, but tourism businesses have recently complained about the country requiring foreigners to submit a variety of documents, from test certificates and Get a COVID-19 vaccine to buying health insurance and booking a hotel room. These requests are said to be has hindered the recovery of the tourism industry in Thailand.
In 2019, Thailand has welcomed nearly 40 million international visitors. However, last year, they received a number of visitors less than 1% of this figure, despite the relaxation of isolation requirements.