After breakfast, Vo Thanh Dat was lifted up and placed in the back seat of the motorbike. During the 13km journey from home to school, his father asked Dat about the subjects of that day, his classmates or faculty members. From time to time, preparing to cross the rough road, Dat was reminded to cling tightly to his father's waist.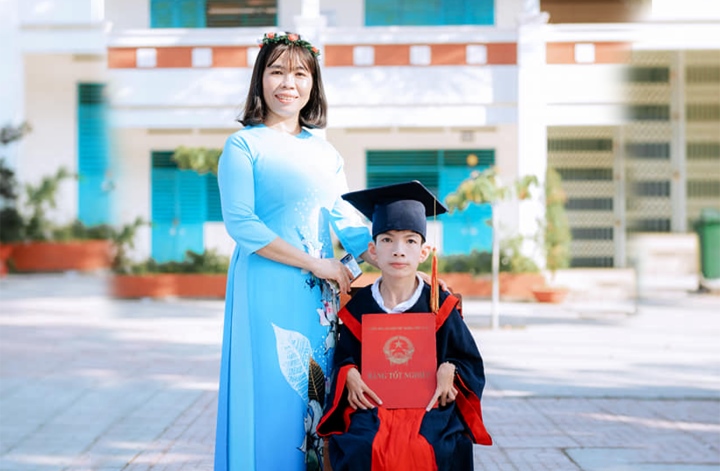 Thanh Dat took a photo with his high school homeroom teacher. (Photo: NVCC)
Dat – 19 years old, is a freshman at the Faculty of Information Technology, An Giang University, Vietnam National University, Ho Chi Minh City. During 13 years of reading, due to paralysis of both legs and weak hands, I was always taken and picked up by my parents. "Many times I have to hide my tears because I love my parents hard and hard for me," Dat confided.
Born 2 months ago, the doctor diagnosed Dat with severe malnutrition. Although my parents were running everywhere, I was getting thinner every day, my legs couldn't move and my hands were weak.
In grade 1, the male student was teased by his friends because of his appearance and was slower to write than his classmates. However, the image of a mother who walks 1 km every day to carry her child to school is deeply ingrained in my mind and motivates me to try. I ignored everything to focus on studying, not letting my parents down.
During the high school years, male students always achieved quite good students. Thanks to my energy, I was loved by my friends and teachers. Every time I play, I am carried by my friends to the yard to watch jumping rope, kicking shuttlecock.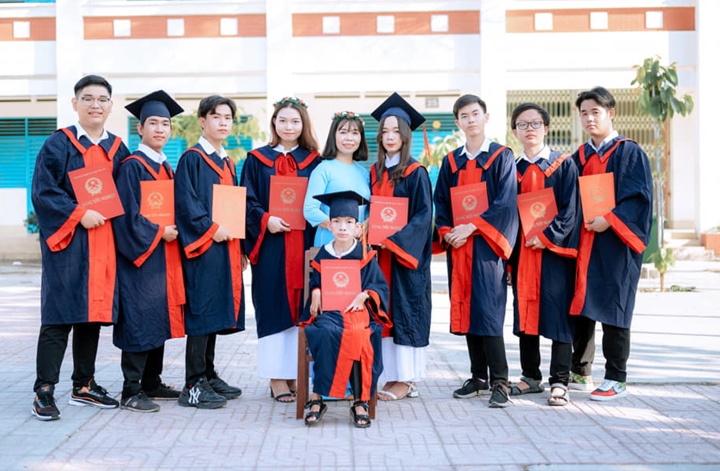 Thanh Dat is loved by friends for always working hard in his studies. (Photo: NVCC)
The day Dat entered An Giang University, the whole family was both happy and worried. My family's economy is limited, all of them depend on my father's money as a bricklayer. In 2017, Ba Dat suddenly had an accident while working. Since then, the health of the three children has deteriorated and their ability to work is no longer the same. Then the COVID-19 pandemic hit, the jobs that my father had a hard time getting were also postponed.
Currently, every day, my father walks a distance of 13km to take me to school, then carry me to class. The rest of the day, who hires my parents to do it.
"Illness makes me unable to move, and my hands are quite weak. However, I do not allow myself to think negatively when beside me there is always the warm affection of my parents and the loving arms of friends and teachers. You are not allowed to be negative when you still have a clear brain and a pair of hands that are not strong enough to do everything, but still enough to hold a pen, enough to open the pages of a book." 10x said.
Thanh Dat received a full scholarship for students with extremely difficult circumstances from Vietnam National University, Ho Chi Minh City. (Photo: NVCC)
To help his parents, Dat tried to achieve good results in his studies to win a full scholarship from Vietnam National University in Ho Chi Minh City. The male student aims to graduate with honors/excellence and get a job related to web programming after graduation. I also wish to be able to earn money to support my parents and take them to travel.
"Alexander Graham Bell once said, 'When one door closes, another opens'. I am a student with difficult circumstances, facing many challenges. But I have the energy, diligence and desire to learn so that tomorrow I can have a bright future." Dat share.